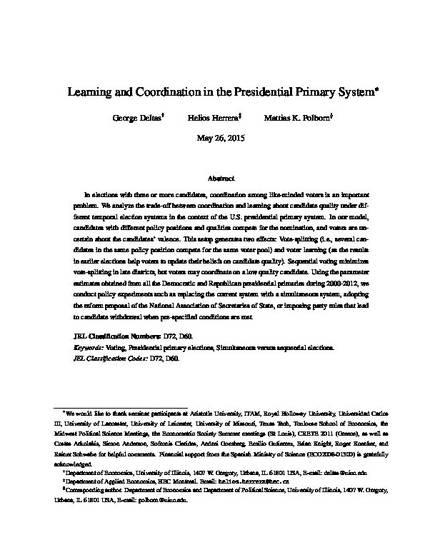 Article
Learning and Coordination in the Presidential Primary System
Review of Economic Studies (2016)
Abstract
To analyze the performance of the U.S. presidential primary system, we develop a model with horizontally and vertically differentiated candidates. Voters are uncertain about candidates' valences, and use results in earlier elections to update their beliefs. The temporal organization of primaries affects both voter learning and vote splitting, i.e., several candidates in the same policy position competing for the same voter pool. Sequential voting minimizes vote-splitting in late districts, but voters may coordinate on the wrong candidate. We structurally estimate the model using the 2008 Democratic presidential primaries. Using the parameter estimates, we conduct policy experiments such as replacing the current system with other proposed systems.
Keywords
Voting,
primary elections,
simultaneous versus sequential elections
Citation Information
Mattias K Polborn, Helios H Herrera and George Deltas. "Learning and Coordination in the Presidential Primary System"
Review of Economic Studies
Vol. 83 (2016) p. 1544 - 1578
Available at: http://works.bepress.com/polborn/18/