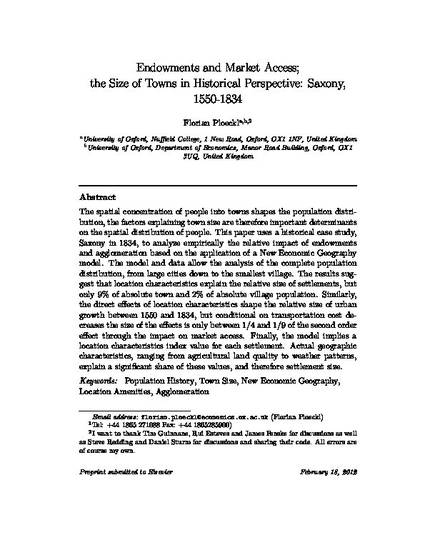 Article
Endowments and Market Access; the Size of Towns in Historical Perspective: Saxony 1550-1834
Regional Science and Urban Economics (2012)
Abstract
The spatial concentration of people into towns shapes the population distribution, the factors explaining town size are therefore important determinants on the spatial distribution of people. This paper uses a historical case study, Saxony in 1834, to analyze empirically the relative impact of endowments and agglomeration based on the application of a New Economic Geography model. The model and data allow the analysis of the complete population distribution, from large cities down to the smallest village. The results suggest that location characteristics explain the relative size of settlements, but only 9% of absolute town and 2% of absolute village population. Similarly, the direct effects of location characteristics shape the relative size of urban growth between 1550 and 1834, but conditional on transportation cost decreases the size of the effects is only between 1/4 and 1/9 of the second order effect through the impact on market access. Finally, the model implies a location characteristics index value for each settlement. Actual geographic characteristics, ranging from agricultural land quality to weather patterns, explain a significant share of these values, and therefore settlement size.
Citation Information
Florian Ploeckl. "Endowments and Market Access; the Size of Towns in Historical Perspective: Saxony 1550-1834"
Regional Science and Urban Economics
Vol. Forthcoming (2012)
Available at: http://works.bepress.com/ploeckl/6/