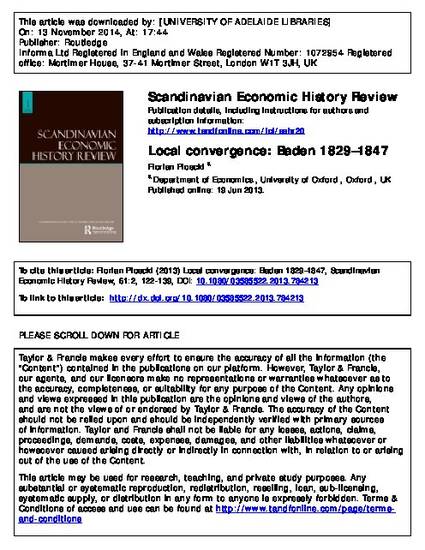 Article
Local Convergence: Baden 1829-1847
Scandinavian Economic History Review (2013)
Abstract
This paper investigates whether internal institutional homogenisation during nation-state formation led to internal local convergence. We use the case of Baden with a new economic measure based on tax revenues derived from archival records. Our measure of local economic activity shows no evidence for convergence, unconditional or conditional, for the period 1829–1847. However, looking at sub-periods the six year interval after Baden's 1836 entry into the Zollverein customs union exhibits an adjustment effect resembling absolute convergence. Rejecting urbanisation as the reason behind this pattern we discuss alternative mechanisms in particular the reallocation of labour.
Citation Information
Florian Ploeckl. "Local Convergence: Baden 1829-1847"
Scandinavian Economic History Review
Vol. 61 Iss. 2 (2013)
Available at: http://works.bepress.com/ploeckl/13/