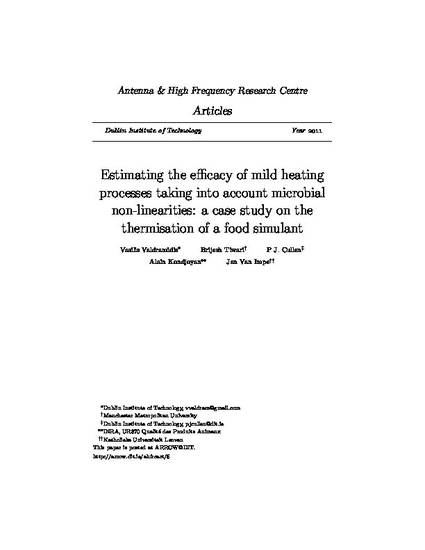 Article
Estimating the Efficacy of Mild Heating Processes taking into Account Microbial Non-linearities: a Case Study on the Thermisation of a Food Simulant
Articles
Publication Date
2011-1-1
Rights
This item is available under a Creative Commons License for non-commercial use only
Abstract
Traditional and novel approaches for the calculation of the heat treatment efficiency are compared in this work. The Mild Heat value (MH-value), an alternative approach to the commonly used sterilisation, pasteurisation and cook value (F, P, C–value), is calculated to estimate the efficiency of a mild heat process. MH-value is the time needed to achieve a predefined microbial reduction at a reference temperature and a known thermal resistant constant, z, for log-linear or specific types of non log-linear microbial inactivation kinetics. An illustrative example is given in which microbial inactivation data of Listeria innocua CLIP 20-595 are used for estimating the inactivation parameters under isothermal conditions of 58, 60, 63 and 66oC by the use of the log-linear and the Geeraerd et al., (2000) model. Thereafter, dynamic temperature profiles (targeting at 54 and 57 C) representing milk thermisation are exploited for illustrating the application of MH-value. Finally, the equivalent holding times of different temperatures are calculated taking into account the observed non-linearity.
DOI
10.1016/j.foodcont.2010.05.007
Citation Information
Valdramidis,V.P. et al. (2010). Estimating the efficacy of mild heating processes taking into account microbial non-linearities: A case study on the thermisation of a food simulant.
Food Control,
22(1), pp.137-142. doi:10.1016/j.foodcont.2010.05.007