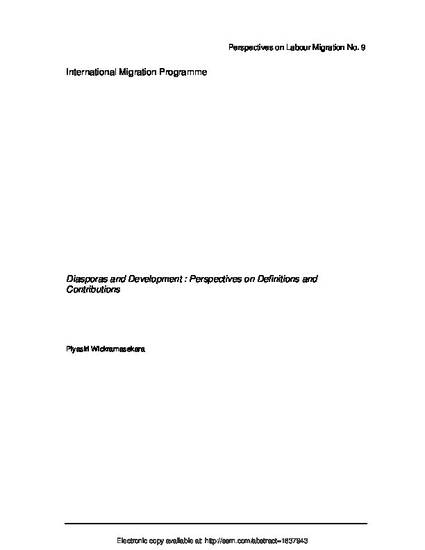 Book
Diasporas and Development: Perspectives on Definitions and Contributions
(2009)
Abstract
The paper addresses an important aspect of the current migration and development debate - the role of diasporas and transnational communities as contributors to the development of their origin countries. He shows that diaspora definitions, estimates of diaspora numbers and conceptualising their contributions are very much inter-related.
In the first section, the author reviews different definitions of diasporas and transnational communities. He then provides some statistical information and estimates available on diaspora communities in different regions of the world with some discussion of their profiles. The diversity of the diaspora is examined in terms of age and skill profiles, length of stay in host societies, status of stay (documented and undocumented) and return patterns. In the next section, the author examines the nature and diversity of diaspora contributions to development. Globalization trends and advances in internet and communications technology and travel and transport have led to many options in transnational engagements. At the same, the increasing attention on promoting migration and development linkages has focussed on the role of the diaspora as a major area of intervention. The author argues that betting on the intellectual or the skilled diaspora alone as common in most discussions could be misleading, and may provide wrong signals for policy interventions. There is substantive evidence that all categories of the diaspora including low skilled diaspora make important contributions to home countries, and this diversity of contributions needs to be given due recognition in diaspora engagement policies.
The author concludes by highlighting a number of directions for further research: better information on diaspora profiles and their transnational engagements; role of women in diaspora communities and their engagement with home countries; transnational practices that embrace both source and destination countries; extent of integration of the diasporas in host societies, and the impact of such integration and protection of rights on their contributions; role of migrant organisations, both formal and informal; and analysis of current policies followed by particularly countries of origin for engaging their diaspora communities.
Keywords
International migration,
Diasporas,
ethnic group / immigrant / migrant worker / economic development / technology transfer / cultural relations / political aspect / developed countries / developing countriestransnational communities,
diversity,
definitions,
estimates of the diaspora,
diaspora contributions,
measurement and estimates,
skilled and low-skilled diasporas,
development contributions
Publisher
International Labour Office
Series
Perspectives on Migration 9
ISBN
ISBN 978-92-2-122632-1 (print version); ISBN 978-92-2-122633-8 (web .pdf version)
Citation Information
PIYASIRI WICKRAMASEKARA. Diasporas and Development: Perspectives on Definitions and Contributions. Geneva(2009)
Available at: http://works.bepress.com/piyasiri_wickramasekara/3/