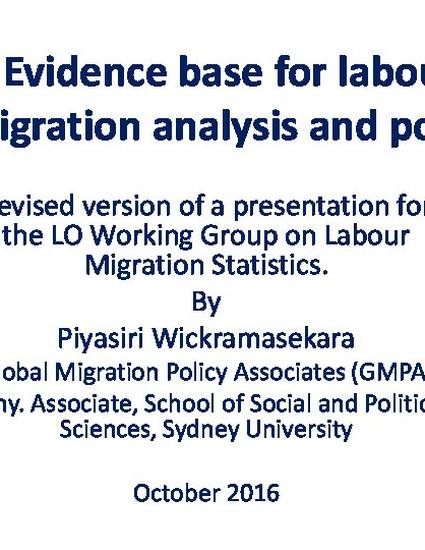 Presentation
Evidence Base for Labour Migration Ananlysis and Policy
ILO Working Group on Labour Migration Statistics, Global Migration Policy Associates (GMPA) (2016)
Abstract
This presentation focusses on use of labour migration data and statistics for analysis and policy. It highlights that knowledge and information are critical to formulate, implement and evaluate labour migration policy and practice as highlighted in a number of recent global initiatives.  Labour migration information is a subset of  broader labour market information and labour statistics, involving both quantitative and qualitative aspects.This means that the International Labour Organization (ILO) has to play a leading role in promoting the generation of quality statistics on migration statistics. Better migration information can contribute to informed debates on immigration and emigration policies, protection of migrant workers and improvement of  policies  for better migration governance. The major criteria to evaluate migration statistics are: accuracy and reliability, timeliness, coverage, consistency, comparability and access and transparency
The presentation identifies major policy needs for migration statistics and information in origin and destination countries.   Then it goes on to highlight major gaps between policy requirements  and available statistics.  These relate to: protection data covering  conditions of work of migrant workers and  Occupational Safety and Health (OSH) statistics; incidence, and impact of irregular migration, and protection status of those in irregular status; contribution of migrant workers to host economies; profile and contributions of diaspora communities;  skilled mobility and brain drain;  integration status of temporary and permanent migrants; and return migration and circular migration.
The presentation then highlights a number of examples from ILO and other interventions to generate data linked to migration policy making.  It points out that even available data are not being effectively used for policy making.  At the same time, the misuse and abuse of migration data for political and xenophobic purposes should be avoided. The presentation concludes with a number of recommendations for better use of migration information for policy making: close interaction and coordination  among data producers and users, timely delivery, appropriate modes of dissemination, involvement of  concerned stakeholders for lobbying and advocacy, and promotional role by international agencies.  
Keywords
labour migration information and data for policy,
migration statistics for labour migration analysis,
policy making,
origin countries of labour migration,
distination countries of labour migration,
policy needs
Publication Date
October, 2016
Citation Information
PIYASIRI WICKRAMASEKARA. "Evidence Base for Labour Migration Ananlysis and Policy"
ILO Working Group on Labour Migration Statistics, Global Migration Policy Associates (GMPA)
(2016)
Available at: http://works.bepress.com/piyasiri_wickramasekara/25/