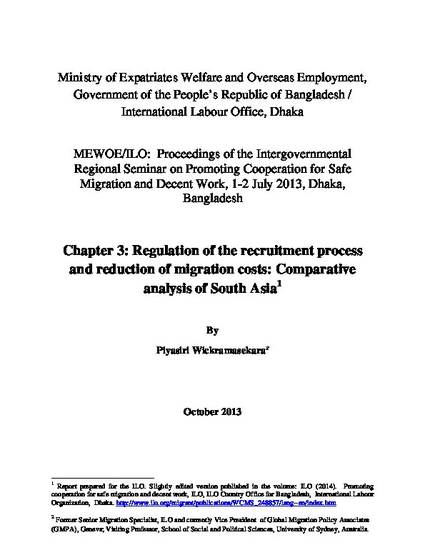 Unpublished Paper
Regulation of recruitment process and reduction of migration costs: A comparative analysis of South Asia
(2013)
Abstract
The study undertakes a comprehensive review of issues relating to recruitment processes and high migration costs in South Asia with special focus on Bangladesh, Nepal and Sri Lanka.
The paper first highlights migration trends in South Asia, and main features of South Asian migration. Next the paper reviews the international normative framework of recruitment covering the Private Employment Agencies Convention, 1997 (No. 181), the Domestic Workers Convention, 2011 (No. 189), and the ILO Multilateral Framework on Migration (2006).
The paper reviews the main features and practices of private recruitment agencies and the legislative and regulatory framework covering their operations.
It next discusses in detail migration costs. The paper points out that the costs of migration go far beyond financial costs since they also include social costs, such as separation from the family, impact on children left behind, among others. Evidence from various field surveys are pieced together to highlight the structure of migration costs, and the role of excessive recruitment fees in raising costs. The author argues that high migration costs result in heavy debt burdens in turn.
Common problems relating to private recruitment agencies and the migration process are: Deception and provision of misleading information; excessive fees, non-transparency of fees, and non-issue of receipts for payments; collusion between intermediaries at origin and destination; employment contracts either not issued or, when issued, not understood by migrant workers nor enforceable at destination; substitution of inferior contracts at destination; withholding or confiscating passports or travel documents; visa trading and sending workers under irregular situations and into forced labour situations and/or into hazardous employment; and violation of migrant workers' fundamental rights as workers in countries of destination through the sponsorship (kafala) system.
The main argument in the paper is that gains from migration for poor people are seriously eroded by the vicious cycle of recruitment malpractices, high migration costs, and onerous debt burdens in origin countries, and low and stagnating wages at destination countries, mostly in the Gulf. There is no information on wage trends in Gulf countries but they have hardly increased in the last two decades or so while costs of living has increased to a large extent causing much hardship to workers. Low wages combined with short-duration contracts, high debt burdens and rising costs of living compel workers to accept any conditions for work, including forced labour, which leave them even more vulnerable than before.
Policy interventions should be targeted at reducing high fees, replacing costly loans, and improving wages and earnings at destination. There is a shared responsibility between countries of origin and destination for better governance and protection of migrant workers. The paper makes a number of recommendations for addressing this situation so that migrant workers receive a fair deal. The paper stresses that all interventions should be based on respect for migrant rights, gender concerns, social dialogue, and cooperation and partnerships.
Keywords
South Asia,
regulation of recruitment process,
migration costs,
Bangladesh,
Nepal,
Sri Lanka,
migrant wages
Publication Date
October, 2013
Citation Information
PIYASIRI WICKRAMASEKARA. "Regulation of recruitment process and reduction of migration costs: A comparative analysis of South Asia" (2013)
Available at: http://works.bepress.com/piyasiri_wickramasekara/15/