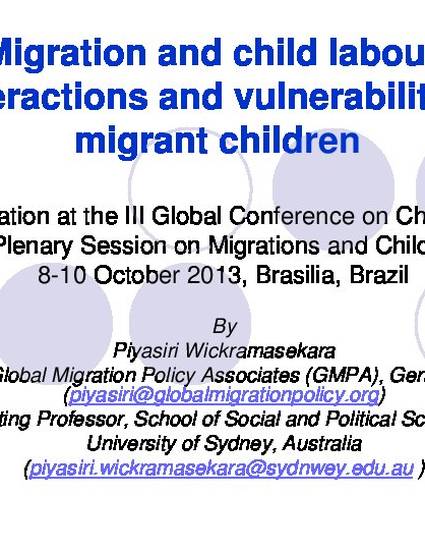 Presentation
Migration and child labour: Interactions and vulnerability of migrant children
III Global Conference on Child Labour, 8-10 October 2013 (2013)
Abstract
The presentation reviews issues pertaining to the migration of children (defined as those blow 18 years of age) within national borders and internationally across border as well as problems of children left behind by migrants. The three categories of interest are: children migrating independently, children migrating with parents, and children left behind. Children may migrate for various reasons: family unification, education, employment, survival strategy, or fleeing from natural disasters, persecution and armed conflict, and they may migrate in regular irregular situations. The bulk of mobility is within countries for both adults and children as in the case of rural to urban migration. The paper discusses the issues of vulnerability and argues that independent child migrants migrating under irregular or undocumented situations are the most vulnerable to trafficking and worst forms of child labour. Children have a right to mobility in conditions of dignity, justice, equity and security, but there are few opportunities for them to migrate legally. Young migrants account for small share of all international migrants. Skilled migrants normally move with families, and their children are well-integrated in education and labour markets. Migration status of parents or children is crucial for enjoyment of rights in destination. Most immigration laws in destination countries have no child rights perspective. International instruments on child rights have been widely ratified, but implementation and enforcement have lagged far behind. Policy directions for dealing with issues of children in migration and those left behind should address compulsory full time education for children, decent work for parents, a basic social protection floor for all, child-sensitive immigration policies, ratification and enforcement of international instruments, and partnerships among all stakeholders.
Keywords
migrant children,
child labour,
children of migrants,
family migration,
children left behind,
unaccompanied child migration,
policies
Publication Date
October 8, 2013
Citation Information
PIYASIRI WICKRAMASEKARA. "Migration and child labour: Interactions and vulnerability of migrant children"
III Global Conference on Child Labour, 8-10 October 2013
(2013)
Available at: http://works.bepress.com/piyasiri_wickramasekara/10/