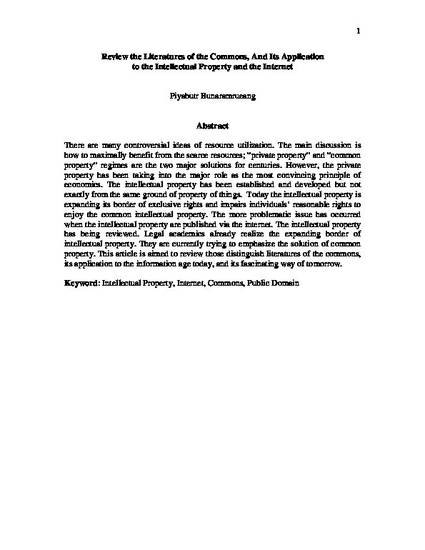 Article
Review the Literatures of the Commons, And Its Application to the Intellectual Property and the Internet
Midnight University (2006)
Abstract
There are many controversial ideas of resource utilization. The main discussion is how to maximally benefit from the scarce resources; "private property" and "common property" regimes are the two major solutions for centuries. However, the private property has been taking into the major role as the most convincing principle of economics. The intellectual property has been established and developed but not exactly from the same ground of property of things. Today the intellectual property is expanding its border of exclusive rights and impairs individuals' reasonable rights to enjoy the common intellectual property. The more problematic issue has occurred when the intellectual property are published via the internet. The intellectual property has being reviewed. Legal academics already realize the expanding border of intellectual property. They are currently trying to emphasize the solution of common property. This article is aimed to review those distinguish literatures of the commons, its application to the information age today, and its fascinating way of tomorrow.
Keywords
Intellectual Property,
Internet,
Commons,
Public Domain
Publication Date
August, 2006
Citation Information
piyabutr bunaramrueang. "Review the Literatures of the Commons, And Its Application to the Intellectual Property and the Internet"
Midnight University
Iss. 992 (2006)
Available at: http://works.bepress.com/piyabutr_bunaramrueang/1/