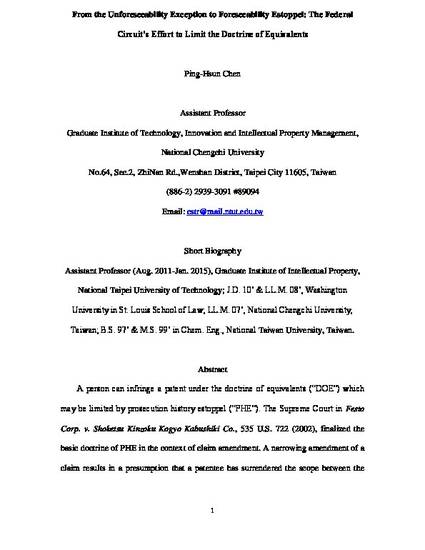 Unpublished Paper
From the Unforeseeability Exception to Foreseeability Estoppel: The Federal Circuit's Effort to Limit the Doctrine of Equivalents
ExpressO (2015)
Abstract
A person can infringe a patent under the doctrine of equivalents ("DOE") which may be limited by prosecution history estoppel ("PHE"). The Supreme Court in Festo Corp. v. Shoketsu Kinzoku Kogyo Kabushiki Co., 535 U.S. 722 (2002), finalized the basic doctrine of PHE in the context of claim amendment. A narrowing amendment of a claim results in a presumption that a patentee has surrendered the scope between the original claim and amended claim, but the patentee is allowed to rebut the presumption by proving any of three exceptions. Among those exceptions is the "unforeseeable" exception under which a patentee may show that the alleged equivalent was unforeseeable at the time of amendment. This article found that the Federal Circuit case law has transformed the "unforeseeable" exception into "foreseeability" estoppel which may completely bar the application of DOE.
Keywords
Doctrine of Equivalents,
Prosecution History Estoppel,
Patent Infringement,
Claim Amendment,
Foreseeability
Publication Date
February 11, 2015
Citation Information
Ping-Hsun Chen. "From the Unforeseeability Exception to Foreseeability Estoppel: The Federal Circuit's Effort to Limit the Doctrine of Equivalents"
ExpressO
(2015)
Available at: http://works.bepress.com/ping-hsun_chen/1/