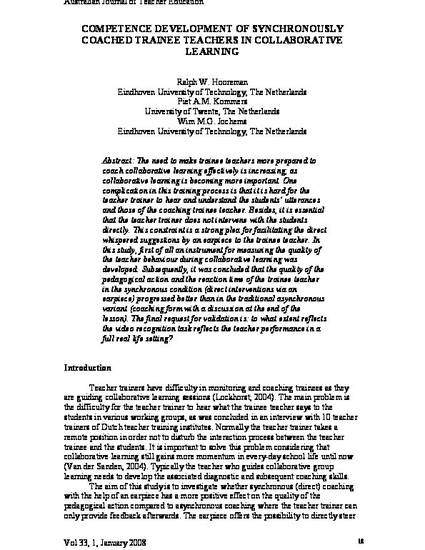 Article
Competence Development of Synchronously Coached Trainee Teachers in Collaborative Learning.
Australian Journal of Teacher Education
DOI
10.14221/ajte.2008v33n1.2
Publication Date
1-1-2008
Abstract
The need to make trainee teachers more prepared to coach collaborative learning effectively is increasing, as collaborative learning is becoming more important. One complication in this training process is that it is hard for the teacher trainer to hear and understand the students' utterances and those of the coaching trainee teacher. Besides, it is essential that the teacher trainer does not intervene with the students directly. This constraint is a strong plea for facilitating the direct whispered suggestions by an earpiece to the trainee teacher. In this study, first of all an instrument for measuring the quality of the teacher behaviour during collaborative learning was developed. Subsequently, it was concluded that the quality of the pedagogical action and the reaction time of the trainee teacher in the synchronous condition (direct interventions via an earpiece) progressed better than in the traditional asynchronous variant (coaching form with a discussion at the end of the lesson). The final request for validation is: to what extent reflects the video recognition task reflects the teacher performance in a full real life setting?
Citation Information
Ralph W. Hooreman, Piet A. Kommers and Wim M. Jochems. "Competence Development of Synchronously Coached Trainee Teachers in Collaborative Learning." (2008)
Available at: http://works.bepress.com/piet_kommers/3/