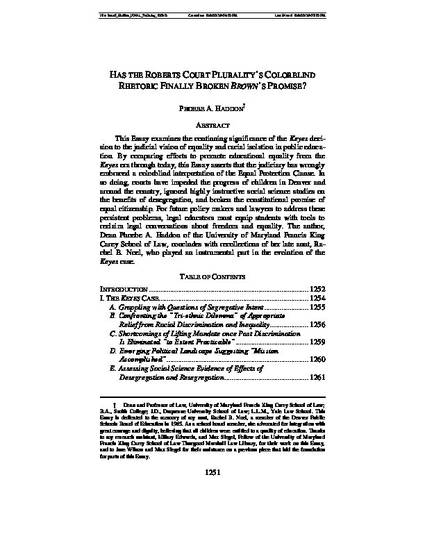 Article
Has the Roberts Court Plurality's Colorblind Rhetoric Finally Broken Brown's Promise?
Faculty Scholarship
Publication Date
1-1-2013
Keywords
Keyes v. School District No. 1,
equality,
race,
public education
Abstract
This Essay examines the continuing significance of the Keyes decision to the judicial vision of equality and racial isolation in public education. By comparing efforts to promote educational equality from the Keyes era through today, this Essay asserts that the judiciary has wrongly embraced a colorblind interpretation of the Equal Protection Clause. In so doing, courts have impeded the progress of children in Denver and around the country, ignored highly instructive social science studies on the benefits of desegregation, and broken the constitutional promise of equal citizenship. For future policy makers and lawyers to address these persistent problems, legal educators must equip students with tools to reclaim legal conversations about freedom and equaltiy. The author, Dean Phoebe A. Haddon of the University of Maryland Francis King Carey School of Law, concludes with recollections of her late aunt, Rachel B. Noel, who played an instrumental part in the evolution of the Keyes case.
Publication Citation
90 Denver University Law Review 1251 (2013).
Citation Information
90 Denver University Law Review 1251 (2013).