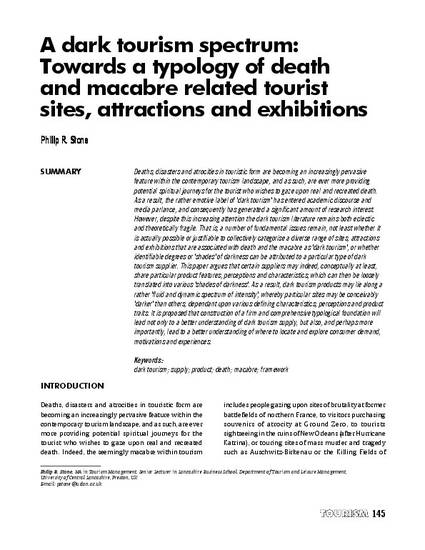 Article
A Dark Tourism Spectrum: towards a typology of death and macabre related tourist sites, attractions and exhibitions
TOURISM: An Interdisciplinary International Journal (2006)
Abstract
Deaths, disasters and atrocities in touristic form are becoming an increasingly pervasive feature within the contemporary tourism landscape, and as such, are ever more providing potential spiritual journeys for the tourist who wishes to gaze upon real and recreated death. As a result, the rather emotive label of 'dark tourism' has entered academic discourse and media parlance, and consequently has generated a significant amount of research interest. However, despite this increasing attention the dark tourism literature remains both eclectic and theoretically fragile. That is, a number of fundamental issues remain, not least whether it is actually possible or justifiable to collectively categorise a diverse range of sites, attractions and exhibitions that are associated with death and the macabre as 'dark tourism', or whether identifiable degrees or 'shades' of darkness can be attributed to a particular type of dark tourism supplier. This paper argues that certain suppliers may indeed, conceptually at least, share particular product features, perceptions and characteristics, which can then be loosely translated into various 'shades of darkness'. As a result, dark tourism products may lie along a rather 'fluid and dynamic spectrum of intensity', whereby particular sites may be conceivably 'darker' than others, dependant upon various defining characteristics, perceptions and product traits. It is proposed that construction of a firm and comprehensive typological foundation will lead not only to a better understanding of dark tourism supply, but also, and perhaps more importantly, lead to a better understanding of where to locate and explore consumer demand, motivations and experiences.
Citation Information
Philip Stone. "A Dark Tourism Spectrum: towards a typology of death and macabre related tourist sites, attractions and exhibitions"
TOURISM: An Interdisciplinary International Journal
Vol. 54 Iss. 2 (2006)
Available at: http://works.bepress.com/philip_stone/4/