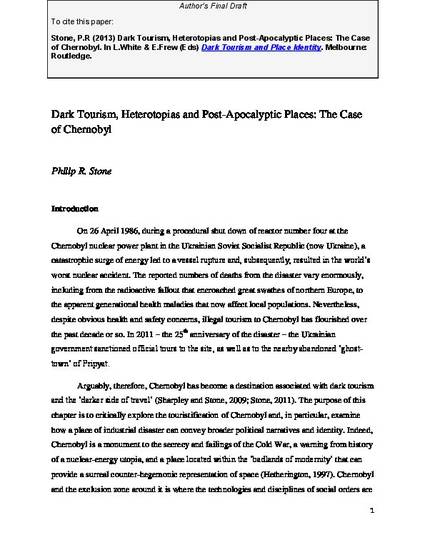 Contribution to Book
Dark Tourism, Heterotopias and Post-Apocalyptic Places: The Case of Chernobyl
DT (2013)
Abstract
On 26 April 1986, during a procedural shut down of reactor number four at the Chernobyl Nuclear Power Plant in the Ukrainian Soviet Socialist Republic (now Ukraine), a catastrophic surge of energy led to a reactor vessel rupture and, subsequently, resulted in the world's worst nuclear accident. Numbers of deaths from the disaster vary enormously, including from the radioactive fallout that encroached great swathes of Western Europe, to the apparent generational health maladies that now affect local populations. However, despite remaining health and safety concerns, illegal visitor tours to Chernobyl have flourished over the past decade or so. Moreover, during 2011 – the 25th anniversary of the disaster – the Ukrainian government sanctioned official tours to the site, as well as to the nearby abandoned 'ghost-town' of Pripyat. Arguably, therefore, Chernobyl has become a destination associated with dark tourism – that is, visits to sites of death, disaster or the seemingly macabre. Thus, the purpose of this chapter is to critically explore the touristification of Chernobyl and, in particular, examine how a place of industrial death and disaster convey broader political narratives and identity. Consequently, Chernobyl as a space of technical, political and cultural importance allows, through its touristic production and consumption, for a valorisation of an alternate social ordering and new political-economic frameworks. In so doing, Chernobyl is viewed as a heterotopia – a ritual space that exists outside of time – in which time is not only arrested but also notions of 'Otherness' are consumed in a post-apocalyptic place. This chapter, therefore, critically examines Chernobyl and its commodification within a conceptual heterotopian framework, and empirically explores the site as a counter-hegemonic place of political ideals and ideology. Ultimately, the chapter suggests that the popularising of Chernobyl through dark tourism means the politics of the past are interfaced with the present, and that the utopian ideals of the former Soviet Union are exposed within the petrified ruins of a heterotopian dark tourism place.
Keywords
Chernobyl,
dark tourism,
heterotopia,
Foucault
Citation Information
Stone, P.R (2013) Dark Tourism, Heterotopias and Post-Apocalyptic Places: The Case of Chernobyl
In
L.White & E.Frew (Eds)
Dark Tourism and Place Identity
. Melbourne: Routledge.