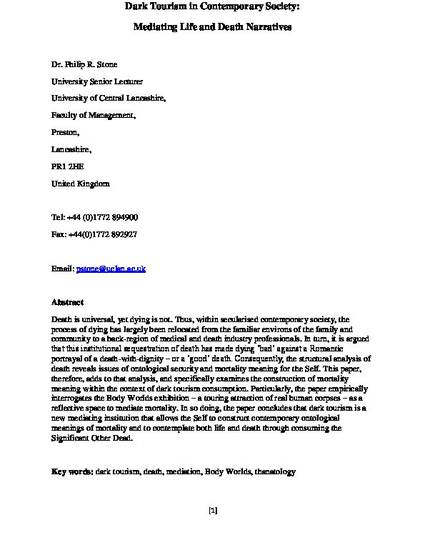 Presentation
FULL PAPER: Dark Tourism in Contemporary Society: Mediating Life and Death Narratives
Twilight Tourism: An International Symposium (2011)
Abstract
Death is universal, yet dying is not. Thus, within secularised contemporary society, the process of dying has largely been relocated from the familiar environs of the family and community to a back-region of medical and death industry professionals. In turn, it is argued that this institutional sequestration of death has made dying "bad" against a Romantic portrayal of a death-with-dignity – or a "good" death. Consequently, the structural analysis of death reveals issues of ontological security and mortality meaning for the Self. This paper, therefore, adds to that analysis, and specifically examines the construction of mortality meaning within the context of dark tourism consumption. Particularly, the paper empirically interrogates the Body Worlds exhibition – a touring attraction of real human corpses – as a reflective space to mediate mortality. In so doing, the paper concludes that dark tourism is a new mediating institution that allows the Self to construct contemporary ontological meanings of mortality and to contemplate both life and death through consuming the Significant Other Dead.
Keywords
death,
mediation,
Body Worlds,
dark tourism,
thanatology
Citation Information
Philip Stone. "FULL PAPER: Dark Tourism in Contemporary Society: Mediating Life and Death Narratives"
Twilight Tourism: An International Symposium
(2011)
Available at: http://works.bepress.com/philip_stone/29/