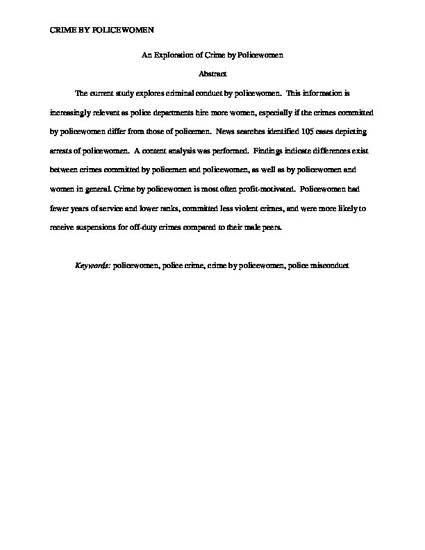 Article
An Exploration of Crime by Policewomen
Police Practice and Research: An international journal
Abstract
The current study explores criminal conduct by policewomen. This information is increasingly relevant as police departments hire more women, especially if the crimes committed by policewomen differ from those of policemen. News searches identified 105 cases depicting arrests of policewomen. A content analysis was performed. Findings indicate differences exist between crimes committed by policemen and policewomen, as well as by policewomen and women in general. Crime by policewomen is most often profit-motivated. Policewomen had fewer years of service and lower ranks, committed less violent crimes, and were more likely to receive suspensions for off-duty crimes compared to their male peers.
Publication Date
10-10-2013
DOI
doi:10.1080/15614263.2013.846222
Citation Information
Philip M Stinson, Natalie E Todak and Mary Dodge. "An Exploration of Crime by Policewomen"
Police Practice and Research: An international journal
(2013)
Available at: http://works.bepress.com/philip_stinson/7/