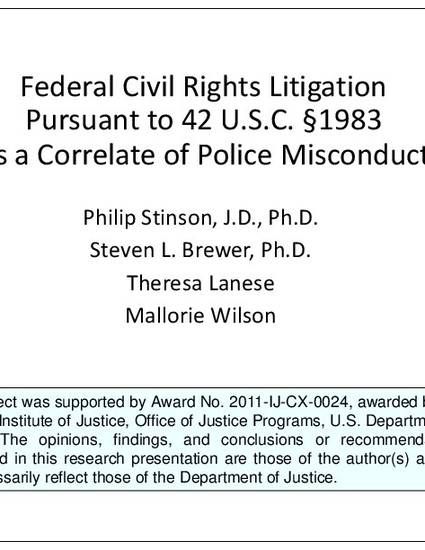 Presentation
Federal Civil Rights Litigation Pursuant to 42 U.S.C. §1983 as a Correlate of Police Misconduct
American Society of Criminology
Document Type
Presentation
Abstract
Police officers acting in their official capacity are subject to being sued in federal court pursuant to 42 U.S.C. §1983 for violating constitutional rights under the color of law. Using data obtained in a larger study on police crime in the United States, names of more than 5,500 nonfederal sworn law enforcement officers who were arrested during the years 2005-2011 were checked against the civil case party master name index of the federal courts' Public Access to Courts Electronic Records (PACER) system. Findings indicate that more than 20% of the police officers who were arrested for committing one or more crimes were also named as a party defendant in a Section 1983 civil action at some point during their law enforcement career. Additional findings and policy implications are discussed.
Publication Date
11-21-2014
Citation Information
Philip M Stinson, Steven L Brewer, Theresa M Lanese and Mallorie A Wilson. "Federal Civil Rights Litigation Pursuant to 42 U.S.C. §1983 as a Correlate of Police Misconduct"
American Society of Criminology
(2014)
Available at: http://works.bepress.com/philip_stinson/57/