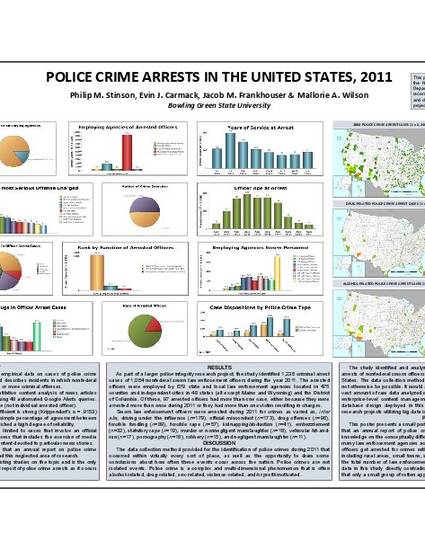 Presentation
Police Crime Arrests in the United States, 2011
American Society of Criminology (2014)
Abstract
Purpose – The purpose of the study is to provide empirical data on cases of police crime arrests during the year 2011. The study identifies and describes incidents in which nonfederal sworn law enforcement officers were arrested for one or more criminal offenses.
Research Design & Method – The study is a quantitative content analysis of news articles identified through the Google News search engine using 48 automated Google Alerts queries. The unit of analysis in this study is criminal arrest case (not individual arrested officer).
Intercoder Reliability – The Krippendorf's alpha coefficient is strong (Krippendorf's α = .9153) across the variables in the study. The overall level of simple percentage of agreement between coders across all of the variables (97.7%) also established a high degree of reliability.
Research limitations/implications – The data are limited to cases that involve an official arrest. The data are also the result of a filtering process that includes the exercise of media discretion as to types of news stories reported and content devoted to particular news stories.
Practical Implications – The study demonstrates that an annual report on police crime arrests can provide empirical data to better understand this neglected area of research.
Originality/value – The study augments the few existing studies on the topic and is the only one known to describe the phenomenon in an annual report of police crime arrests as it occurs within law enforcement agencies nationwide.
Keywords
police crime,
police misconduct,
police corruption
Publication Date
November 20, 2014
Citation Information
Philip M Stinson, Evin J Carmack, Jacob M Frankhouser and Mallorie A Wilson. "Police Crime Arrests in the United States, 2011"
American Society of Criminology
(2014)
Available at: http://works.bepress.com/philip_stinson/38/