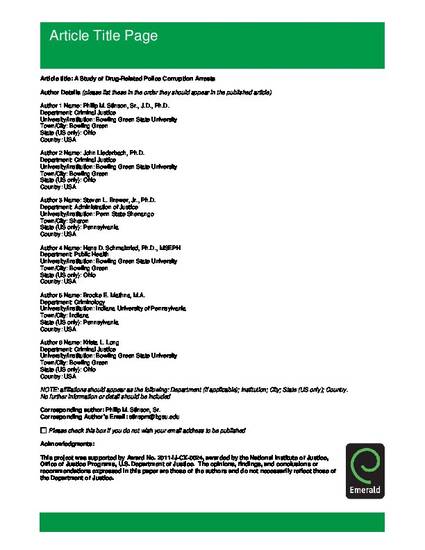 Article
A Study of Drug-Related Police Corruption Arrests
Policing: An International Journal of Police Strategies & Management
Abstract
Purpose – The purpose of the study is to provide empirical data on cases of drug-related police corruption. It identifies and describes incidents in which police officers were arrested for criminal offenses associated with drug-related corruption.
Design/methodology/approach – The study is a quantitative content analysis of news articles identified through the Google News search engine using 48 automated Google Alerts queries. Statistical analyses include classification trees to examine causal pathways between drugs and corruption.
Findings – Data were analyzed on 221 drug-related arrest cases of officers employed by police agencies throughout the United States. Findings show that drug-related corruption involves a wide range of criminal offenses, and that cocaine is the most prevalent drug. Older officers and those employed by large agencies are less likely than others to lose their jobs after a drug-related arrest.
Research limitations/implications – The study is limited by the quality of the available content in each case. The data are also limited to cases that involve an official arrest. Additionally, the data are the result of a filtering process that includes the exercise of media discretion as to types of news stories reported and the content devoted to particular news stories.
Practical implications – The data provide documentation of drug-related corruption and the drug trade in 141 police agencies and the need for police executives to develop effective strategies to address it.
Originality/value – The study augments the few drug corruption studies published
Publication Date
1-1-2013
DOI
doi:10.1108/PIJPSM-06-2012-0051
Citation Information
Philip M Stinson, John Liederbach, Steven L Brewer, Hans Schmalzried, et al.. "A Study of Drug-Related Police Corruption Arrests"
Policing: An International Journal of Police Strategies & Management
Vol. 36 Iss. 3 (2013) p. 491 - 511
Available at: http://works.bepress.com/philip_stinson/20/