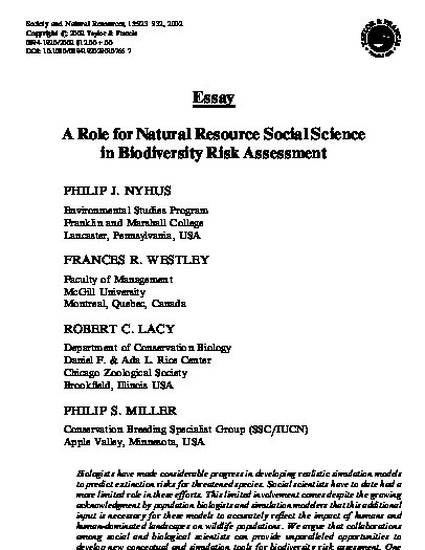 Article
A Role for Natural Resource Social Science in Biodiversity Risk Assessment
Society and Natural Resources (2002)
Abstract
Biologists have made considerable progress in developing realistic simulation models to predict extinction risks for threatened species. Social scientists have to date had a more limited role in these efforts. This limited involvement comes despite the growing acknowledgment by population biologists and simulation modelers that this additional input is necessary for these models to accurately reflect the impact of humans and human-dominated landscapes on wildlife populations. We argue that collaborations among social and biological scientists can provide unparalleled opportunities to develop new conceptual and simulation tools for biodiversity risk assessment. One challenge is that while the value of interdisciplinary research is widely recognized, interdisciplinary teamwork is dif®cult to achieve. We suggest strategies to strengthen such cross-disciplinary collaboration, including efforts to link diverse models and to build networks of researchers who have not historically collaborated.Weconclude with questions intended to guide further discussions about how to integrate social science information into biodiversity risk assessments in the future.
Keywords
biocomplexity,
interdisciplinary collaboration,
population viability analysis
Citation Information
Philip J. Nyhus, Frances R Westley, Robert C Lacey and Philip S Miller. "A Role for Natural Resource Social Science in Biodiversity Risk Assessment"
Society and Natural Resources
Vol. 15 Iss. 10 (2002)
Available at: http://works.bepress.com/philip_nyhus/11/