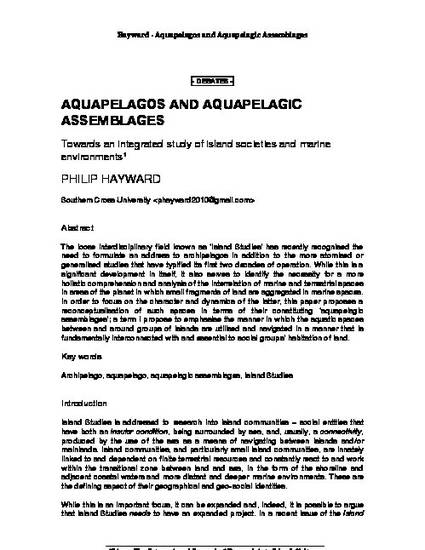 Article
Aquapelagos and aquapelagic assemblages
Shims: The International Journal of Research into Island Cultures
Publication Date
1-1-2012
Peer Reviewed
Peer-Reviewed
Abstract
The loose interdisciplinary field known as 'Island Studies' has recently recognised the need to formulate an address to archipelagos in addition to the more atomised or generalised studies that have typified its first two decades of operation. While this is a significant development in itself, it also serves to identify the necessity for a more holistic comprehension and analysis of the interrelation of marine and terrestrial spaces in areas of the planet in which small fragments of land are aggregated in marine spaces. In order to focus on the character and dynamics of the latter, this paper proposes a reconceptualisation of such spaces in terms of their constituting 'aquapelagic assemblages'; a term I propose to emphasise the manner in which the aquatic spaces between and around groups of islands are utilised and navigated in a manner that is fundamentally interconnected with and essential to social groups' habitation of land.
Citation Information
Hayward, P 2012, 'Aquapelagos and aquapelagic assemblages', Shims: The International Journal of Research into Island Cultures, vol. 6, no. 1, pp. 1-11.
Article published in ePublications with the kind permission of the publishers
Published version available from: