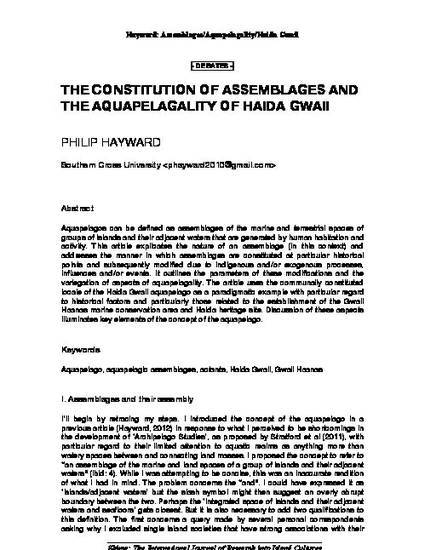 Article
The constitution of assemblages and the aquapelagality of Haida Gwaii
Shima: The International Journal of Research Into Island Cultures
Publication Date
1-1-2012
Peer Reviewed
Peer-Reviewed
Abstract
Aquapelagos can be defined as assemblages of the marine and terrestrial spaces of groups of islands and their adjacent waters that are generated by human habitation and activity. This article explicates the nature of an assemblage (in this context) and addresses the manner in which assemblages are constituted at particular historical points and subsequently modified due to indigenous and/or exogenous processes, influences and/or events. It outlines the parameters of these modifications and the variegation of aspects of aquapelagality. The article uses the communally constituted locale of the Haida Gwaii aquapelago as a paradigmatic example with particular regard to historical factors and particularly those related to the establishment of the Gwaii Haanas marine conservation area and Haida heritage site. Discussion of these aspects illuminates key elements of the concept of the aquapelago.
Citation Information
Hayward, P 2012, 'The constitution of assemblages and the aquapelagality of Haida Gwaii', Shima: The International Journal of Research Into Island Cultures, vol. 6, no. 2, pp. 1-14.
Article published in ePublications with the kind permission of the publishers.
Published version available from: