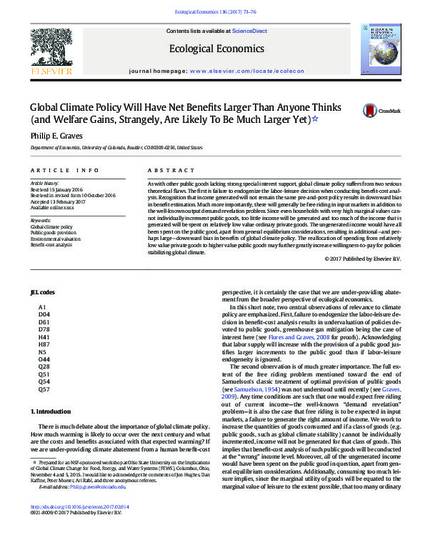 Article
Global Climate PolicyWill Have Net Benefits Larger Than Anyone Thinks (and Welfare Gains, Strangely, Are Likely To Be Much Larger Yet)
Ecological Economics (2017)
Abstract
As with other public goods lacking strong special interest support, global climate policy suffers from two serious
theoretical flaws. The first is failure to endogenize the labor-leisure decision when conducting benefit-cost analysis.
Recognition that income generated will not remain the same pre-and-post policy results in downward bias
in benefit estimation. Much more importantly, there will generally be free riding in input markets in addition to
the well-known output demand revelation problem. Since even households with very high marginal values cannot
individually increment public goods, too little income will be generated and too much of the income that is
generated will be spent on relatively low value ordinary private goods. The ungenerated income would have all
been spent on the public good, apart from general equilibrium considerations, resulting in additional—and perhaps
large—downward bias in benefits of global climate policy. The reallocation of spending from relatively
lowvalue private goods to higher value public goods may further greatly increasewillingness-to-pay for policies
stabilizing global climate.
Keywords
global climate policy,
public goods provision,
environmental valuation,
benefit-cost analysis
Publication Date
Summer June, 2017
DOI
http://dx.doi.org/10.1016/j.ecolecon.2017.02.014
Citation Information
PHILIP E GRAVES. "Global Climate PolicyWill Have Net Benefits Larger Than Anyone Thinks (and Welfare Gains, Strangely, Are Likely To Be Much Larger Yet)"
Ecological Economics
Vol. 136 Iss. June, 2017 (2017) p. 73 - 76 ISSN: 0921-8009
Available at: http://works.bepress.com/philip_graves/112/