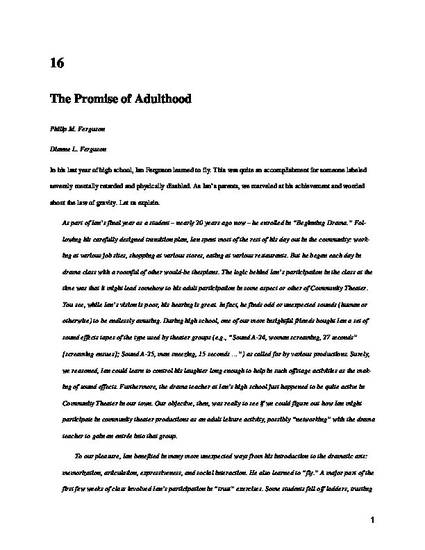 Book
The Promise of Adulthood
Education Faculty Books and Book Chapters
Description
"How do we assure ourselves that [our severely disabled son] Ian is somehow contributing to all the choices that get made about what constitutes a good adult life for him? We have created new options for Ian and others as we have struggled to answer these ques-tions. We have also increased our understanding of what it means for someone who has a variety of severe disabilities to be adult."
Publication Date
1-1-1993
Publisher
Palgrave Macmillan
Keywords
Curriculum,
History,
Professionalism,
Program Development,
Special Education
Copyright
Palgrave Macmillan
Citation Information
Ferguson, P. M., & Ferguson, D. L. (1993). The promise of adulthood. In M. E. Snell (Ed.),
Instruction of students with severe disabilities
(4th ed.) (pp. 588–607). Columbus, OH: Macmillan.