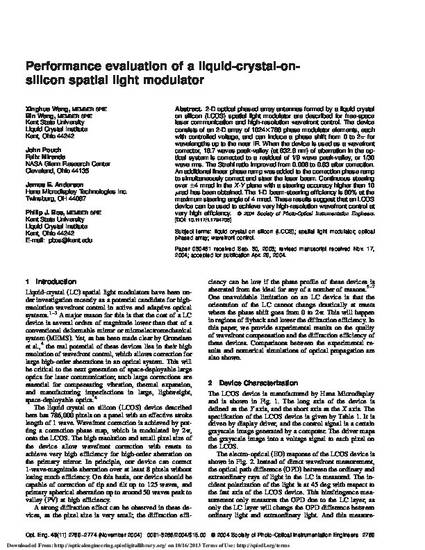 Article
Wide-Angle Achromatic Prism Beam Steering for Infrared Countermeasure Applications
Optical Engineering
Publication Date
11-15-2007
Keywords
infrared countermeasures,
achromatic prism,
beam steering,
Risley prism,
dispersion correction
Abstract
A two-rotating-prism system is an inexpensive lightweight two-dimensional beam steering device. It can be designed to be achromatic over a wide spectral range. However, the current two-prism achromatic design has a singularity problem at the center of the "field of view": if a beam is to be steered through the center, one of the prisms must make an instantaneous 90 flip. In our work we proposed a solution to this problem by adding a third prism to the system. The main thrust of this study was optimization of the apparatus by minimizing dispersion effects as well as predicting the theoretical speed and manner in which the beam may be steered.
Citation Information
Philip J. Bos, Henry Garcia and Vassili Sergan. "Wide-Angle Achromatic Prism Beam Steering for Infrared Countermeasure Applications"
Optical Engineering
Vol. 46 Iss. 11 (2007)
Available at: http://works.bepress.com/philip_bos/56/