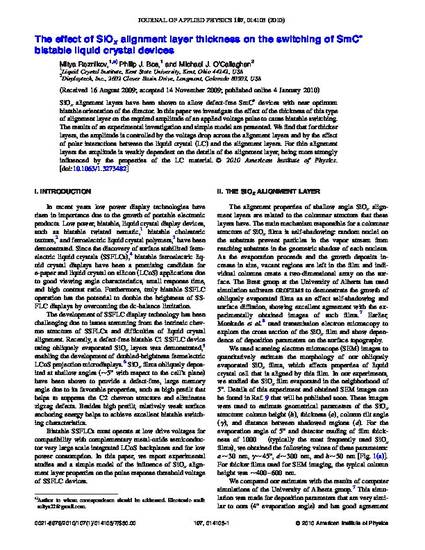 Article
The Effect of Siox Alignment Layer Thickness on the Switching of Smc* Bistable Liquid Crystal Devices
Journal of Applied Physics
Publication Date
1-4-2010
Keywords
orientation,
films,
cells
Abstract
SiOx alignment layers have been shown to allow defect-free SmC* devices with near optimum bistable orientation of the director. In this paper we investigate the effect of the thickness of this type of alignment layer on the required amplitude of an applied voltage pulse to cause bistable switching. The results of an experimental investigation and simple model are presented. We find that for thicker layers, the amplitude is controlled by the voltage drop across the alignment layers and by the effect of polar interactions between the liquid crystal (LC) and the alignment layers. For thin alignment layers the amplitude is weakly dependent on the details of the alignment layer, being more strongly influenced by the properties of the LC material.
Citation Information
Mitya Reznikov, Philip J. Bos and Michael J. O'Callaghan. "The Effect of Siox Alignment Layer Thickness on the Switching of Smc* Bistable Liquid Crystal Devices"
Journal of Applied Physics
Vol. 107 Iss. 1 (2010)
Available at: http://works.bepress.com/philip_bos/42/