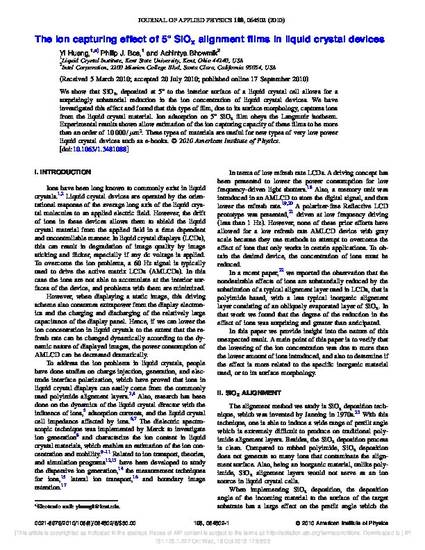 Article
The Ion Capturing Effect of 5 Degrees Siox Alignment Films in Liquid Crystal Devices
Journal of Applied Physics
Publication Date
9-17-2010
Keywords
complex dielectric-constant,
orientation,
generation,
transport,
surface,
cells,
layers
Abstract
We show that SiOx, deposited at 5 degrees to the interior surface of a liquid crystal cell allows for a surprisingly substantial reduction in the ion concentration of liquid crystal devices. We have investigated this effect and found that this type of film, due to its surface morphology, captures ions from the liquid crystal material. Ion adsorption on 5 degrees SiOx film obeys the Langmuir isotherm. Experimental results shown allow estimation of the ion capturing capacity of these films to be more than an order of 10 000/mu m(2). These types of materials are useful for new types of very low power liquid crystal devices such as e-books.
Citation Information
Yi Huang, Philip J. Bos and Achintya Bhowmik. "The Ion Capturing Effect of 5 Degrees Siox Alignment Films in Liquid Crystal Devices"
Journal of Applied Physics
Vol. 108 Iss. 6 (2010)
Available at: http://works.bepress.com/philip_bos/39/