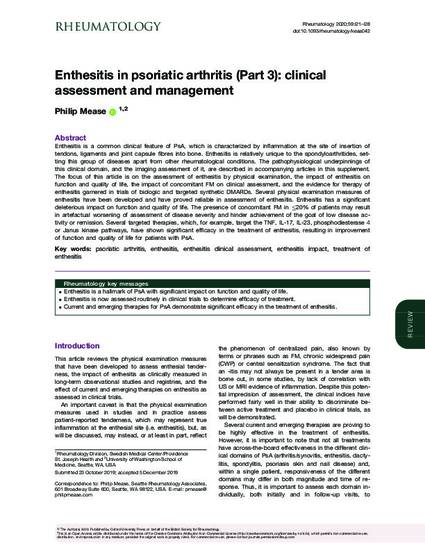 Article
Enthesitis in psoriatic arthritis (Part 3): clinical assessment and management.
Rheumatology (Oxford, England)
Publication Date
3-1-2020
Abstract
Enthesitis is a common clinical feature of PsA, which is characterized by inflammation at the site of insertion of tendons, ligaments and joint capsule fibres into bone. Enthesitis is relatively unique to the spondyloarthritides, setting this group of diseases apart from other rheumatological conditions. The pathophysiological underpinnings of this clinical domain, and the imaging assessment of it, are described in accompanying articles in this supplement. The focus of this article is on the assessment of enthesitis by physical examination, the impact of enthesitis on function and quality of life, the impact of concomitant FM on clinical assessment, and the evidence for therapy of enthesitis garnered in trials of biologic and targeted synthetic DMARDs. Several physical examination measures of enthesitis have been developed and have proved reliable in assessment of enthesitis. Enthesitis has a significant deleterious impact on function and quality of life. The presence of concomitant FM in ≤20% of patients may result in artefactual worsening of assessment of disease severity and hinder achievement of the goal of low disease activity or remission. Several targeted therapies, which, for example, target the TNF, IL-17, IL-23, phosphodiesterase 4 or Janus kinase pathways, have shown significant efficacy in the treatment of enthesitis, resulting in improvement of function and quality of life for patients with PsA.
Clinical Institute
Orthopedics & Sports Medicine
Citation Information
Philip Mease. "Enthesitis in psoriatic arthritis (Part 3): clinical assessment and management."
Rheumatology (Oxford, England)
(2020)
Available at: http://works.bepress.com/philip-mease/431/