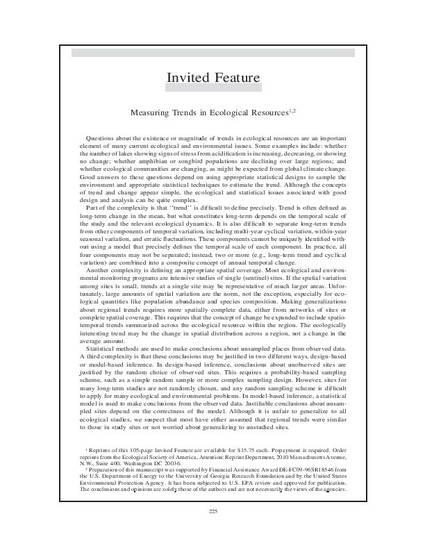 Article
Measuring Trends in Ecological Resources
Ecological Applications (1998)
Abstract
Questions about the existence or magnitude of trends in ecological resources are an important
element of many current ecological and environmental issues. Some examples include: whether
the number of lakes showing signs of stress from acidification is increasing, decreasing, or showing
no change; whether amphibian or songbird populations are declining over large regions; and
whether ecological communities are changing, as might be expected from global climate change.
Good answers to these questions depend on using appropriate statistical designs to sample the
environment and appropriate statistical techniques to estimate the trend. Although the concepts
of trend and change appear simple, the ecological and statistical issues associated with good
design and analysis can be quite complex.
Keywords
change,
environmental sampling,
monitoring,
regional extrapolation,
survey design
DOI
10.1890/1051-0761(1998)008[0225:MTIER]2.0.CO;2
Citation Information
Philip Dixon, Anthony R. Olsen and Bruce M. Kahn. "Measuring Trends in Ecological Resources"
Ecological Applications
Vol. 8 Iss. 2 (1998) p. 225 - 227
Available at: http://works.bepress.com/philip-dixon/37/