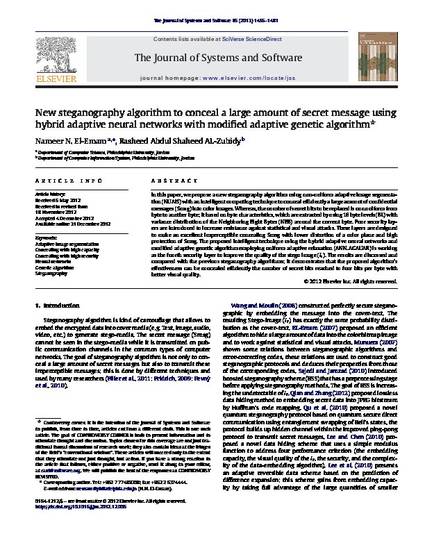 Article
New steganography algorithm to conceal a large amount of secret message using hybrid adaptive neural networks with modified adaptive genetic algorithm
The Journal of Systems and Software (2012)
Abstract
In this paper, we propose a new steganography algorithm using non-uniform adaptive image segmentation (NUAIS) with an intelligent computing technique to conceal efficiently a large amount of confidential messages (Smsg) into color images. Whereas, the number of secret bits to be replaced is non uniform from byte to another byte; it based on byte characteristics, which are extracted by using 16 byte levels (BL) with variance distribution of the Neighboring Eight Bytes (NEB) around the current byte. Four security layers are introduced to increase resistance against statistical and visual attacks. These layers are designed to make an excellent imperceptible concealing Smsg with lower distortion of a color plane and high protection of Smsg. The proposed intelligent technique using the hybrid adaptive neural networks and modified adaptive genetic algorithm employing uniform adaptive relaxation (ANN_AGAUAR) is working as the fourth security layer to improve the quality of the stego image (Is). The results are discussed and compared with the previous steganography algorithms; it demonstrates that the proposed algorithm's effectiveness can be concealed efficiently the number of secret bits reached to four bits per byte with better visual quality.
Citation Information
Nameer N. EL-Emam and Rasheed A. AL-Zubidy. "New steganography algorithm to conceal a large amount of secret message using hybrid adaptive neural networks with modified adaptive genetic algorithm"
The Journal of Systems and Software
Vol. 86 Iss. 2013 (2012)
Available at: http://works.bepress.com/philadelphia_university/128/