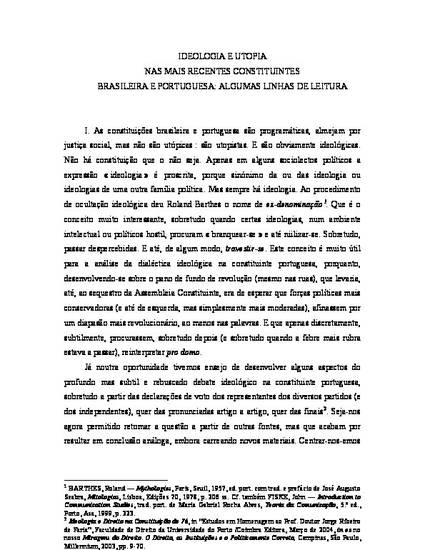 Article
Ideologia e utopias nas mais recentes constituintes brasileira e portuguesa: algumas linhas de leitura
Estudos Filosóficos, São João del-Rei (2009)
Abstract
Based upon a political compromise, in which « democratic socialists » and « social democrats » were the main protagonists, the ideology of Portuguese Constitution of 1976 was discrete, subtle. And ulterior constitutional revisions confirmed that fondamental aspect. Of course, utopia was present. But, even more present was the « hope principle ». We believe that the Brazilean constituent assembly, with the original importance of popular contributions, also had hope principle's decisive influence. But the dinamics of the constituent assembly moderated, since the very beggining, the verbal signs of less discret ideologies. Utopia, neverthless, is very present in the aim of the « Citizen Constitution » to over-regulate many aspects of life by means of the constitutional text itself.
Keywords
Constituição Brasileira,
Constituição Portuguesa,
Assembleia Constituinte,
Ideologia,
Utopia
Publication Date
December, 2009
Citation Information
Paulo Ferreira da Cunha. "Ideologia e utopias nas mais recentes constituintes brasileira e portuguesa: algumas linhas de leitura"
Estudos Filosóficos, São João del-Rei
Iss. n.º 3 (2009)
Available at: http://works.bepress.com/pfc/89/