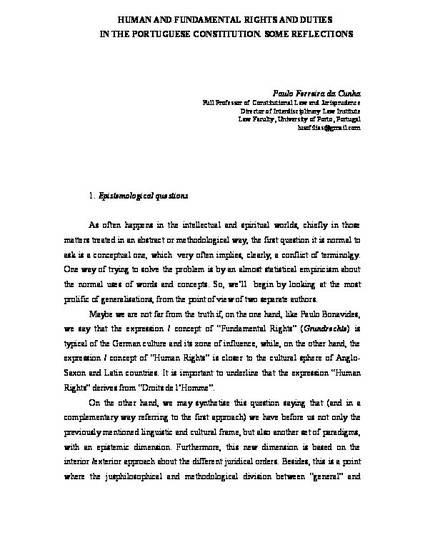 Article
Human and Fundamental Rights and Duties in Portuguese Constitution. Some reflections
"Prawa Czlowieka" (2008)
Abstract
The Portuguese Constitution (1976) came after a period of 48 years of authoritarianism and a closed society, in which some happy few enjoyed great privileges while the great majority of people were charged with heavy duties So, by a very understandable "law of human nature", the constituent law givers could not reasonably impose constitutionally many obligations, in an autonomous way. As rights and duties are the twin sides of the same coin, the juridical formulation under the sign of rights also implies obligations, related to those same rights. This is kinder and more pleasant to do by a liberating Constitution...
Keywords
Human rights,
fondamental rights,
duties,
Portuguese Constitutional Law
Citation Information
Paulo Ferreira da Cunha. "Human and Fundamental Rights and Duties in Portuguese Constitution. Some reflections"
"Prawa Czlowieka"
Vol. 11 (2008)
Available at: http://works.bepress.com/pfc/5/