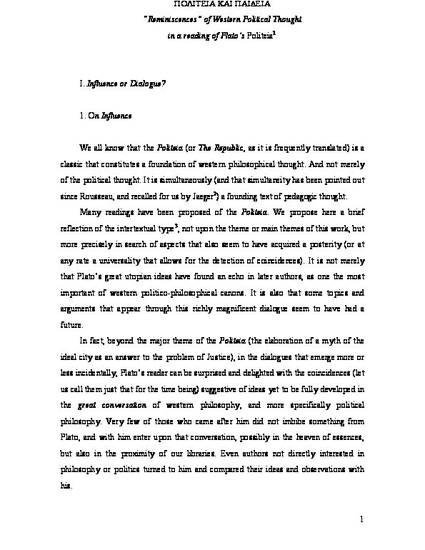 Article
Politeia and Paideia. "Reminiscences" of Western Political Thought in a Reading of Plato's Politeia
ΦΙΛΟΣΟΦΙΑ (2006)
Abstract
Many readings have been proposed of the Politeia. We propose here a brief reflection of the intertextual type, not upon the theme or main themes of this work, but more precisely in search of aspects that also seem to have acquired a posterity (or at any rate a universality that allows for the detection of coincidences). It is not merely that Plato's great utopian ideas have found an echo in later authors, as one the most important of western politico-philosophical canons. It is also that some topics and arguments that appear through this richly magnificent dialogue seem to have had a future.
Keywords
Paideia,
Republic,
Western Philosophical legacy,
"Great Conversation",
Paideia
Citation Information
Paulo Ferreira da Cunha. "Politeia and Paideia. "Reminiscences" of Western Political Thought in a Reading of Plato's Politeia"
ΦΙΛΟΣΟΦΙΑ
Vol. 36 (2006)
Available at: http://works.bepress.com/pfc/4/