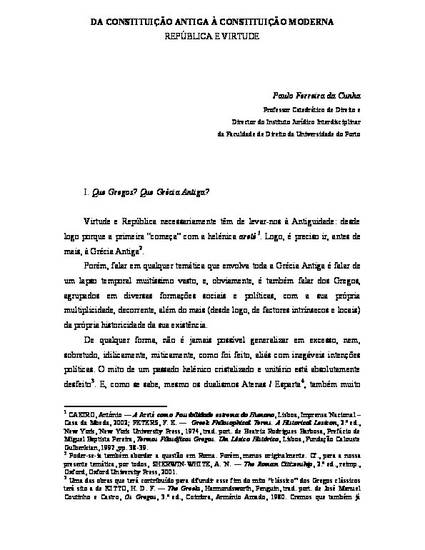 Article
Da Constituição Antiga à Constituição Moderna. República e Virtude
Revista Brasileira de Estudos Constitucionais (2008)
Abstract
Virtude e República necessariamente têm de levar-nos à Antiguidade: desde logo porque a primeira "começa" com a helénica "areté". Logo, é preciso ir, antes de mais, à Grécia Antiga, e especialmente ao legado ateniense. "Directly or indirectly, Athenian democracy as an extraordinary experiment in social history thus stimulates our own thinking about crucial issues of our own democracy and society, incomparably more complex though they are. The point is precisely that the ancients help us focus on the essentials" - como afirma Kurt A. Raaflaub.
Keywords
Constituição Moderna,
Constituição Antiga,
Constituição Histórica,
República,
Virtude,
Ética Republicana,
Politeia
Citation Information
Paulo Ferreira da Cunha. "Da Constituição Antiga à Constituição Moderna. República e Virtude"
Revista Brasileira de Estudos Constitucionais
Vol. 5 (2008)
Available at: http://works.bepress.com/pfc/31/