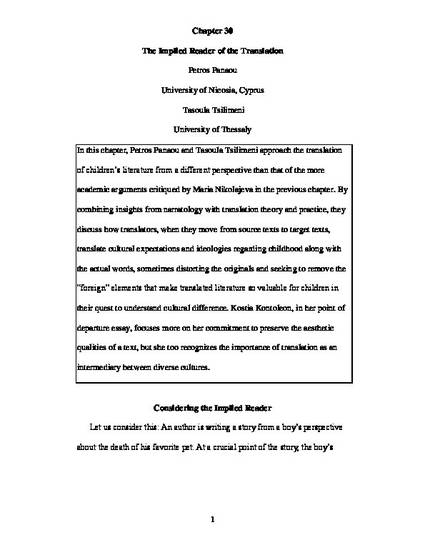 Contribution to Book
The Implied Reader of the Translation: Picture Books and 'Normal Children' Translated from One Language/Culture to Another
Handbook of Research on Children's and Young Adult Literature (2011)
Abstract
In this chapter, Petros Panaou and Tasoula Tsilimeni approach the translation of children's literature from a different perspective than that of the more academic arguments critiqued by Maria Nikolajeva in the previous chapter. By combining insights from narratology with translation theory and practice, they discuss how translators, when they move from source texts to target texts, translate cultural expectations and ideologies regarding childhood along with the actual words, sometimes distorting the originals and seeking to remove the "foreign" elements that make translated literature so valuable for children in their quest to understand cultural difference.
Keywords
the implied reader of the translation,
translation norms,
domestication,
foreignization,
intercultural communication
Citation Information
Panaou, P. & Tsilimeni, T. (2011). The Implied Reader of the Translation: Picture Books and 'Normal Children' Translated from One Language/Culture to Another. In S. Wolf, K. Coats, P.A. Enciso, and C. Jenkins (Eds.),
Handbook of Research on Children's and Young Adult Literature
(pp. 419-427). New York: Routledge.