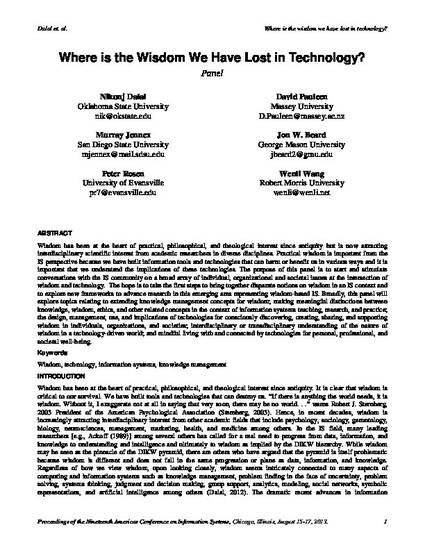 Article
Where is the Wisdom We Have Lost in Technology?
AMCIS 2013 Proceedings
Abstract
Wisdom has been at the heart of practical, philosophical, and theological interest since antiquity but is now attracting interdisciplinary scientific interest from academic researchers in diverse disciplines. Practical wisdom is important from the IS perspective because we have built information tools and technologies that can harm or benefit us in various ways and it is important that we understand the implications of these technologies. The purpose of this panel is to start and stimulate conversations with the IS community on a broad array of individual, organizational and societal issues at the intersection of wisdom and technology. The hope is to take the first steps to bring together disparate notions on wisdom in an IS context and to explore new frameworks to advance research in this emerging area representing wisdom-based IS. Broadly, this panel will explore topics relating to extending knowledge management concepts for wisdom; making meaningful distinctions between knowledge, wisdom, ethics, and other related concepts in the context of information systems teaching, research, and practice; the design, management, use, and implications of technologies for consciously discovering, creating, sharing, and supporting wisdom in individuals, organizations, and societies; interdisciplinary or transdisciplinary understanding of the nature of wisdom in a technology-driven world; and mindful living with and connected by technologies for personal, professional, and societal well-being.
Citation Information
Nikunj Dalal, David Pauleen, Murray Jennex, Jon Beard, et al.. "Where is the Wisdom We Have Lost in Technology?"
Available at: http://works.bepress.com/peterrosen/6/