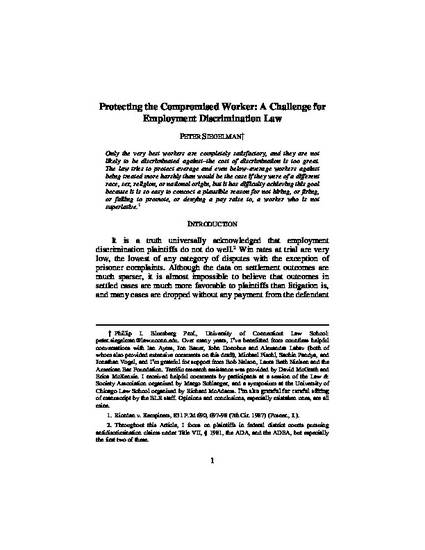 Article
Protecting the Compromised Worker: : A Challenge for Employment Discrimination Law
Buffalo L. Rev (2016)
Abstract
Why do employment discrimination plaintiffs fare so poorly? Many explanations have been offered, but this essay suggests a new one: a substantial fraction of all plaintiffs are "compromised" workers, meaning that they have done something on the job that might plausibly justify the treatment about which they are complaining. As a matter of both doctrine and logic, compromised plaintiffs can be legitimate victims of discrimination. But they face substantial difficulties in proving that their employer relied on a prohibited characteristic in its treatment of them because, by definition, their behavior offers a plausibly legitimate explanation for their treatment. After demonstrating the significance of "compromised" plaintiffs, this essay examines the reasons for their prevalence and suggests doctrinal solutions for coping with the particular problems they present.
Citation Information
Peter Siegelman. "Protecting the Compromised Worker: : A Challenge for Employment Discrimination Law"
Buffalo L. Rev
(2016)
Available at: http://works.bepress.com/peter_siegelman/41/