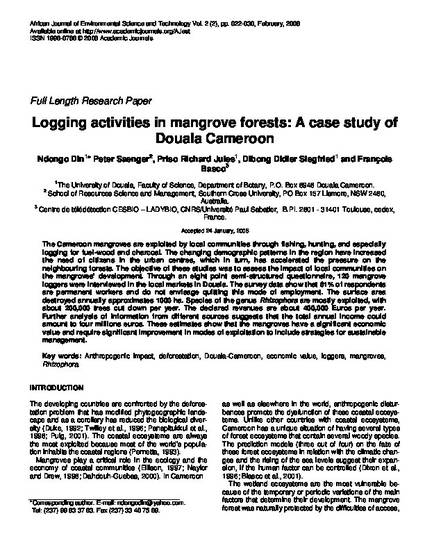 Article
Logging activities in mangrove forests: a case study of Douala Cameroon
African Journal of Environmental Science and Technology
Publication Date
1-1-2008
Abstract
The Cameroon mangroves are exploited by local communities through fishing, hunting, and especially logging for fuel-wood and charcoal. The changing demographic patterns in the region have increased the need of citizens in the urban centres, which in turn, has accelerated the pressure on the neighbouring forests. The objective of these studies was to assess the impact of local communities on the mangroves' development. Through an eight point semi-structured questionnaire, 120 mangrove loggers were interviewed in the local markets in Douala. The survey data show that 61% of respondents are permanent workers and do not envisage quitting this mode of employment. The surface area destroyed annually approximates 1000 ha. Species of the genus Rhizophora are mostly exploited, with about 200,000 trees cut down per year. The declared revenues are about 400,000 Euros per year. Further analysis of information from different sources suggests that the total annual income could amount to four millions euros. These estimates show that the mangroves have a significant economic value and require significant improvement in modes of exploitation to include strategies for sustainable management.
Citation Information
Din, N, Saenger, P, Jules, PR, Siegried, DD & Basco, F 2008, 'Logging activities in mangrove forests: A case study of Douala Cameroon',
African Journal of Environmental Science and Technology
, vol. 2, no. 2, pp. 22-30.
The publisher's version of this article is available at http://www.academicjournals.org/AJest
The abstract and pdf of the published article reproduced in ePublications@SCU with the permission of African Journal of Environmental Science & Technology