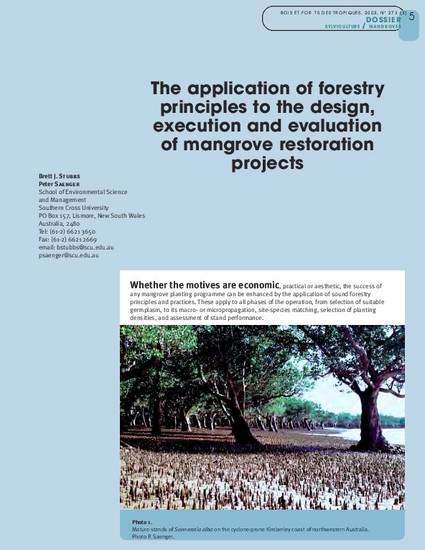 Article
The application of forestry principles to the design, execution and evaluation of mangrove restoration projects
Bois et Foréts des Tropiques
Publication Date
1-1-2002
Abstract
Mangrove planting is carried out in many parts of the world for a great variety of reasons, including timber production, shoreline protection, channel stabilization, fisheries and wildlife enhancement, legislative compliance, social enrichment, and ecological restoration. Clear definition and prioritization of the objectives of any planting programme is essential to its planning, execution and evaluation. Whether the motives are economic, practical or aesthetic, the success of any mangrove planting programme can be enhanced by the application of sound forestry principles and practices. These apply to all phases of the operation, from selection of suitable germplasm, to its macro- or micropropagation, sitespecies matching, selection of planting densities, and assessment of stand performance.
Citation Information
Stubbs, BJ & Saenger, P 2002, 'The application of forestry principles to the design, execution and evaluation of mangrove restoration projects',
Bois et Foréts des Tropiques
, vol. 56, no. 273, pp. 5-21.
The abstract and pdf of the published article reproduced in ePublications@SCU with the permission of Bois et Foréts des Tropiques
Publisher's version of article available at http://bft.revuesonline.com/