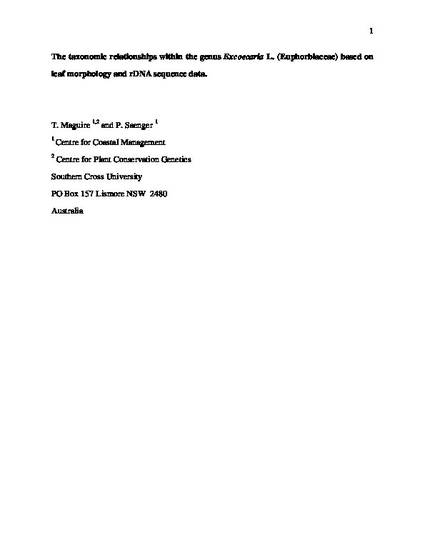 Article
The taxonomic relationships within the genus Excoecaria L. (Euphorbiaceae) based on leaf morphology and rDNA sequence data
Wetlands Ecology and Management
Publication Date
1-1-2000
Abstract
The tropical Indo-Pacific genus Excoecaria L. (Euphorbiaceae) has several closely related species in Australia whose taxonomic relationships are unclear. The most widely reported species in Australia is the mangrove species Excoecaria agallocha L. (type species), whose taxonomic and geographic limits are difficult to define from its closely related species or sub-species. Two additional taxa have also been described but not clearly differentiated from the type species: Excoecaria dallachyana Baillon and Excoecaria ovalis Endl. This project aimed to determine the taxonomic relationships of the Australian Excoecaria species using both leaf morphological data and DNA sequence data from the internal transcribed spacer (ITS) region of ribosomal genes. The nucleotide differences in the examined ITS1 region show that E. agallocha from eastern Australia and E. ovalis from Western Australia respectively, are genetically uniform within species but differ from each other consistently, thus supporting species status. The leaf morphological data also support this view: single factor analysis of variance consistently separated E. ovalis from E. agallocha on the basis of leaf width, leaf length and length of petiole. In contrast, E. ovalis from the Gulf of Carpentaria differs only slightly from E. ovalis in Western Australia, but no evidence was found to suggest any leaf morphological differentiation within this species. The analysis also suggests that E. dallachyana is not closely related to either mangrove species E. agallocha or E. ovalis, despite superficial morphological similarities.
Citation Information
Maguire, TL & Saenger, P 2000, 'The taxonomic relationships within the genus Excoecaria L. (Euphorbiaceae) based on leaf morphology and rDNA sequence data',
Wetlands Ecology and Management
, vol. 8, no. 1, pp. 19-28.
The original publication is available at www.springerlink.com, http://dx.doi.org/10.1023/A:1008407009397
The abstract and pdf of the published article reproduced in ePublications@SCU with the permission of Wetland Ecology and Management