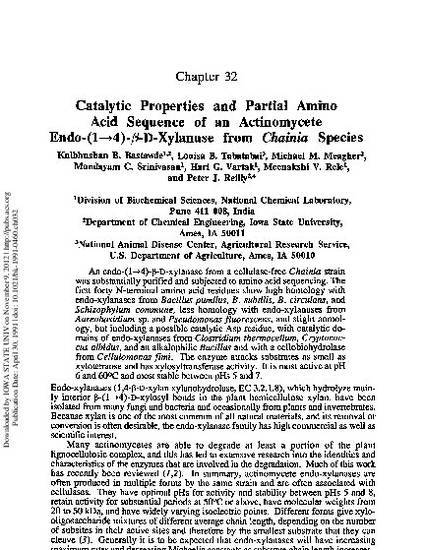 Article
Catalytic Properties and Partial Amino Acid Sequence of an Actinomycete Endo-(1→4)-β-D-Xylanase from Chainia Species
ACS Symposium Series
Publication Date
4-30-1991
DOI
10.1021/bk-1991-0460.ch032
Abstract
An endo-(l→4)-β-D-xylanase from a cellulase-free Chainia strain was substantially purified and subjected to amino acid sequencing. The first forty N-terminal amino acid residues show high homology with endo-xylanases from Bacillus pumilus, B. subtilis, B. circulans, andSchizophylum commune, less homology with endo-xylanases from Aureobasidium sp. andPseudomonas fluorescens, and slight homology, but including a possible catalytic Asp residue, with catalytic domains of endo-xylanases from Clostridium thermocellum,Cryptococcus albidus, and an alkalophilic Bacillus and with a cellobiohydrolase fromCellulomonas fimi. The enzyme attacks substrates as small as xylotetraose and has xylosyltransferase activity. It is most active at pH 6 and 60°C and most stable between pHs 5 and 7.
Copyright Owner
American Chemical Society
File Format
application/pdf
Citation Information
Kulbhushan B. Bastawde, Louisa B. Tabatabai, Michael M. Meagher, Mandayam C. Srinivasan, et al.. "Catalytic Properties and Partial Amino Acid Sequence of an Actinomycete Endo-(1→4)-β-D-Xylanase from Chainia Species"
ACS Symposium Series
Vol. 460 (1991) p. 417 - 425
Available at: http://works.bepress.com/peter_reilly/29/