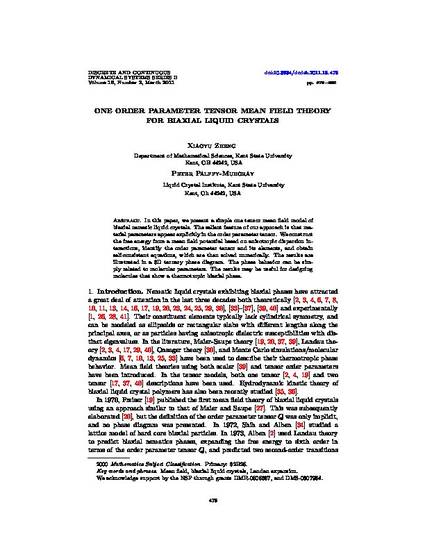 Article
One Order Parameter Tensor Mean Field Theory for Biaxial Liquid Crystals
Discrete and Continuous Dynamical Systems, Series B
Publication Date
3-15-2011
DOI
10.3934/dcdsb.2011.15.475
Keywords
nematic phase-transition,
landau theory,
lattice model,
monte-carlo,
particles,
dynamics,
diagram,
fluid
Abstract
In this paper, we present a simple one tensor mean field model of biaxial nematic liquid crystals. The salient feature of our approach is that material parameters appear explicitly in the order parameter tensor. We construct the free energy from a mean field potential based on anisotropic dispersion interactions, identify the order parameter tensor and its elements, and obtain self-consistent equations, which are then solved numerically. The results are illustrated in a 3D ternary phase diagram. The phase behavior can be simply related to molecular parameters. The results may be useful for designing molecules that show a thermotropic biaxial phase.
Citation Information
Xiaoyu Zheng and Peter Palffy-Muhoray. "One Order Parameter Tensor Mean Field Theory for Biaxial Liquid Crystals"
Discrete and Continuous Dynamical Systems, Series B
Vol. 15 Iss. 2 (2011) p. 475 - 490
Available at: http://works.bepress.com/peter_palffy-muhoray/9/