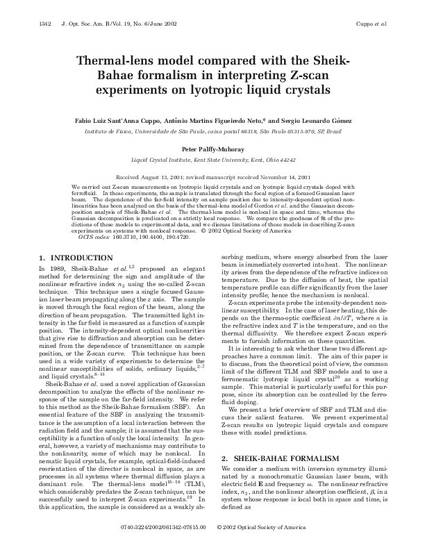 Article
Thermal-Lens Model Compared With the Sheik-Bahae Formalism in Interpreting Z-Scan Experiments on Lyotropic Liquid Crystals
Chemical Physics Publications (2002)
Abstract
We carried out Z-scan measurements on lyotropic liquid crystals and on lyotropic liquid crystals doped with ferrofluid. In these experiments, the sample is translated through the focal region of a focused Gaussian laser beam. The dependence of the far-field intensity on sample position due to intensity-dependent optical nonlinearities has been analyzed on the basis of the thermal-lens model of Gordon et al. and the Gaussian decomposition analysis of Sheik-Bahae et al. The thermal-lens model is nonlocal in space and time, whereas the Gaussian decomposition is predicated on a strictly local response. We compare the goodness of fit of the predictions of these models to experimental data, and we discuss limitations of these models in describing Z-scan experiments on systems with nonlocal response.
Keywords
Single-Beam,
Optical Nonlinearities,
Refraction,
Nematics
Publication Date
June, 2002
Citation Information
Fabio Luiz Sant'Anna Cuppo, Antonio Martins Figueiredo Neto, Sergio Leonardo Gomez and Peter Palffy-Muhoray. "Thermal-Lens Model Compared With the Sheik-Bahae Formalism in Interpreting Z-Scan Experiments on Lyotropic Liquid Crystals"
Chemical Physics Publications
Vol. 19 Iss. 6 (2002)
Available at: http://works.bepress.com/peter_palffy-muhoray/18/