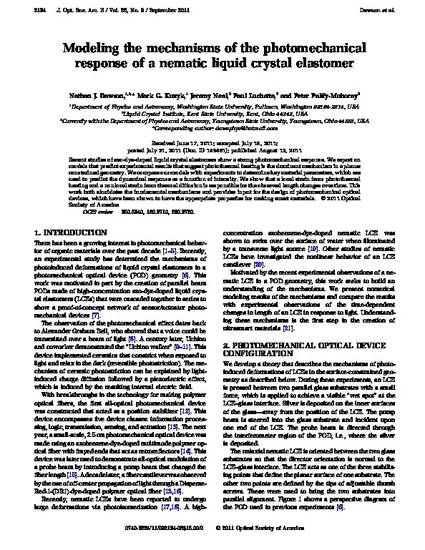 Article
Modeling the Mechanisms of the Photomechanical Response of a Nematic Liquid Crystal Elastomer
Journal of the Optical Society of America B-Optical Physics (2011)
Abstract
Recent studies of azo-dye-doped liquid crystal elastomers show a strong photomechanical response. We report on models that predict experimental results that suggest photothermal heating is the dominant mechanism in a planar constrained geometry. We compare our models with experiments to determine key material parameters, which are used to predict the dynamical response as a function of intensity. We show that a local strain from photothermal heating and a nonlocal strain from thermal diffusion is responsible for the observed length changes over time. This work both elucidates the fundamental mechanisms and provides input for the design of photomechanical optical devices, which have been shown to have the appropriate properties for making smart materials.
Keywords
Molekular-Statistische Theorie,
Perot Wave-Guide,
Kristallinflussigen Phase,
Network Actuators,
Light,
Devices,
Route
Publication Date
September 1, 2011
Citation Information
Nathan J Dawson, Mark G Kuzyk, Jeremy Neal, Paul Luchette, et al.. "Modeling the Mechanisms of the Photomechanical Response of a Nematic Liquid Crystal Elastomer"
Journal of the Optical Society of America B-Optical Physics
Vol. 28 Iss. 9 (2011)
Available at: http://works.bepress.com/peter_palffy-muhoray/10/