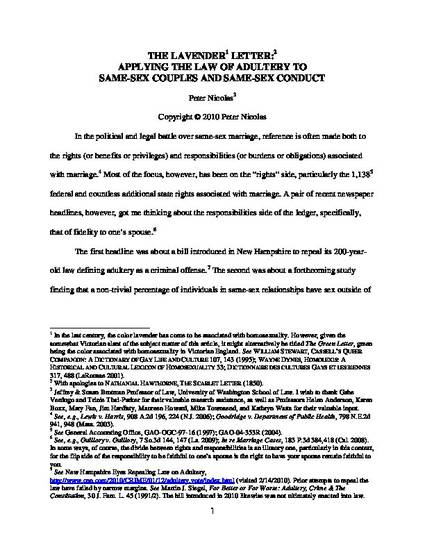 Unpublished Paper
The Lavender Letter: Applying the Law of Adultery to Same-Sex Couples and Same-Sex Conduct
ExpressO (2010)
Abstract
In this manuscript, I examine the question whether the law of adultery applies to same-sex extramarital conduct, which has divided courts nationwide. While the case law to date has been sparse—since the issue has only arisen in the context of opposite-sex marriages in which one spouse has an extramarital same-sex relationship—with the growth in the number of states recognizing same-sex marriage, the question is certain to recur with increased frequency.
In the manuscript, I examine the question in four different contexts: criminal adultery prosecutions, fault-based divorce actions, civil tort actions for interference with the marital relationship, and murder cases raising a provocation defense based on a spouse's act of adultery. I demonstrate that those decisions holding that same-sex conduct does not constitute adultery do so by relying on outdated precedents that endorse a gendered concept of adultery that treats sexual dalliances by men and women differently, as well as on heteronormative statutory regimes in which same-sex adultery and opposite-sex adultery were punished differently because all sexual activity between individuals of the same-sex was considered unlawful. Next, I show that the policy arguments in favor of maintaining any of these bases for criminal and civil liability apply with equal force to same-sex couples and same-sex conduct. Finally, I conclude that the same equality principles that have resulted in the extension of the right to marry to same-sex couples likewise require the application of adultery laws and related doctrines to same-sex couples and same-sex conduct, and indeed that a failure to apply them in those contexts devalues same-sex relationships and perpetuates antiquated, negative stereotypes about gay people.
Keywords
adultery,
same-sex,
gay,
homosexual,
same-sex marriage,
gay marriage,
homosexual marriage,
alienation of affections,
criminal conversation,
breach of promise to marry,
fault-based divorce,
glbt,
lgbt,
ecclesiastical,
canon law,
common law,
seduction,
gender,
sexual orientation,
gender discrimination
Publication Date
August 2, 2010
Citation Information
Peter Nicolas. "The Lavender Letter: Applying the Law of Adultery to Same-Sex Couples and Same-Sex Conduct"
ExpressO
(2010)
Available at: http://works.bepress.com/peter_nicolas/5/