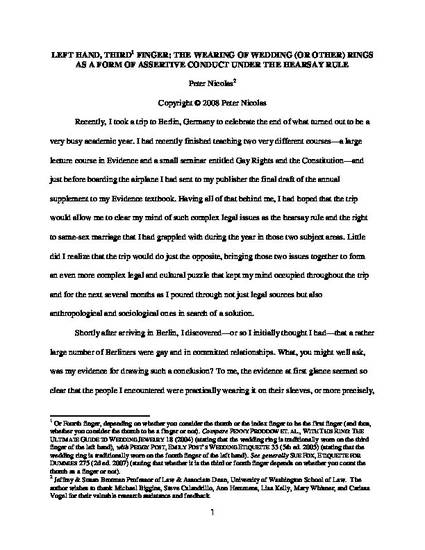 Unpublished Paper
Left Hand, Third Finger: The Wearing of Wedding (or Other) Rings as a Form of Assertive Conduct Under the Hearsay Rule
ExpressO (2008)
Abstract
In this manuscript, I examine the social phenomena of making use of what I call "ring evidence" to determine an individual's marital status or sexual orientation. More specifically, I note the common practice of identifying people as married based on the presence of a ring on the ring finger of the left hand, as gay and in a committed relationship based on the presence of a ring on the ring finger of the right hand, and as single based on the absence of a ring.
Next, I identify two problems with making use of ring evidence to draw conclusions about a person's marital status or sexual orientation. First, ring placement practices are not uniform, but differ across and within cultures, leading to the risk that people will misinterpret the meaning of ring evidence. And second, people sometimes intentionally use ring placement as a way of lying to others about their marital status, sometimes wearing rings when they are actually single and sometimes removing them when they are in fact married.
I then demonstrate that the same concerns that suggest caution when using ring evidence in a social setting apply when using it in a legal setting. Specifically, I demonstrate that ring evidence is actually a form of assertive, nonverbal hearsay, and that the theoretical reasons for excluding hearsay evidence generally apply with particular force to ring evidence.
Keywords
gay,
same-sex,
evidence,
hearsay,
wedding rings,
ring evidence,
sexual orientation,
gender,
sexuality,
marriage
Publication Date
September 10, 2008
Citation Information
Peter Nicolas. "Left Hand, Third Finger: The Wearing of Wedding (or Other) Rings as a Form of Assertive Conduct Under the Hearsay Rule"
ExpressO
(2008)
Available at: http://works.bepress.com/peter_nicolas/1/