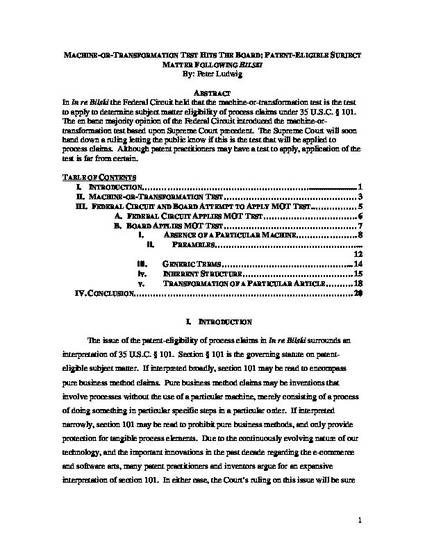 Unpublished Paper
Machine-or-Transformation Test Hit The Board: Patent-Eligible Subject Matter Following Bilski
ExpressO (2010)
Abstract
In In re Bilski the Federal Circuit held that the machine-or-transformation test is the test to apply to determine subject matter eligibility of process claims under 35 U.S.C. § 101. The en banc majority opinion of the Federal Circuit introduced the machine-or-transformation test based upon Supreme Court precedent. The Supreme Court will soon hand down a ruling letting the public know if this is the test that will be applied to process claims. Although patent practitioners may have a test to apply, application of the test is far from certain.
Keywords
patents,
claims,
intellectual property,
business method,
bilski,
software
Publication Date
April 22, 2010
Citation Information
Peter L. Ludwig. "Machine-or-Transformation Test Hit The Board: Patent-Eligible Subject Matter Following Bilski"
ExpressO
(2010)
Available at: http://works.bepress.com/peter_ludwig/2/