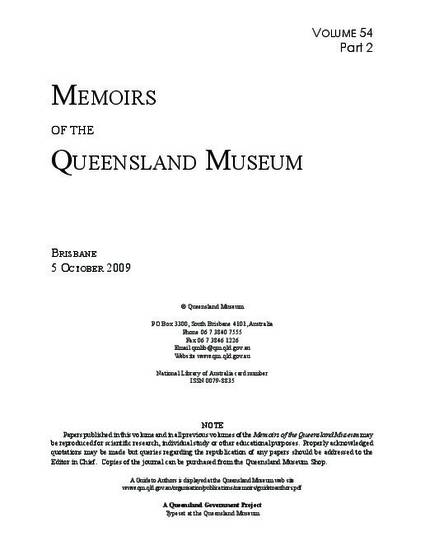 Article
The scleractinian corals of Moreton Bay, eastern Australia: high latitude, marginal assemblages with increasing species richness
Memoirs of the Queensland Museum
Publication Date
1-1-2009
Peer Reviewed
Peer-Reviewed
Abstract
Moreton Bay, located 27°S on the east coast of Australia, provides a rare instance of urban, subtropical, marginal coral reefs in an urbanised environment, adjacent to a major city 500 km south of the Great Barrier Reef. These reefs have been regarded as being close to environmental extinction, yet substantial living coral assemblages remain, and are currently at their highest recorded living diversity in this location. We taxonomically review collections of living and fossil coral specimens made over an 83-year period (1924–2007) from this bay. Our study records 64 scleractinian species from 26 genera and 13 families living in Inner Moreton Bay during the period 2003–2007, including 59 reef-building and five solitary species. This includes species newly recruiting into the bay, although our study also reveals the presence of previously unrecorded species in earlier collections. More diverse coral assemblages at this latitude occur in the oceanic waters of Outer Moreton Bay at Flinders Reef and other small reefs, where 125 species from 35 genera are recorded. In total, 143 species from 40 genera are recorded in the Moreton Bay region. The corals of Inner Moreton Bay show a remarkable persistence through time (78% are also recorded in the Holocene fossil record) and space (72% occur in Outer Moreton Bay and 59% to the south in New South Wales), which indicates an inbuilt resilience within regional subtropical assemblages. We suggest that this persistence is the result of a naturally dynamic system, in which intermittent loss of species due to severe natural impacts such as episodic freshwater flooding is mitigated by recruitment from sources outside the bay. We further suggest it is possible for additional regional species to establish themselves in the bay, as changes in the environmental management regime begin to reverse the effects of anthropogenic disturbances such as coral mining, over-fishing, and runoff of nutrients and pollutants. Other factors that may have led to the present high level of species richness could include: the passage of several years of severe drought without major flooding; warmer climatic conditions; or a combination of some or all of these conditions. We present systematic descriptions of all taxa from Inner Moreton Bay, using morphological features specific to Moreton Bay representatives, and also the general distribution and southerly limit for each species, as a baseline for observation of future change.  Marginal coral reefs, resilience, climate change, biogeography, taxonomy, Moreton Bay, Queensland, Cnidaria, Anthozoa, Hexacorallia, Scleractinia.
Citation Information
Wallace, CC, Fellegara, I, Muir, PR & Harrison, PL 209, 'The scleractinian corals of Moreton Bay, eastern Australia: high latitude, marginal assemblages with increasing species richness', Memoirs of the Queensland Museum, vol. 54, no. 2, pp. 1-118.