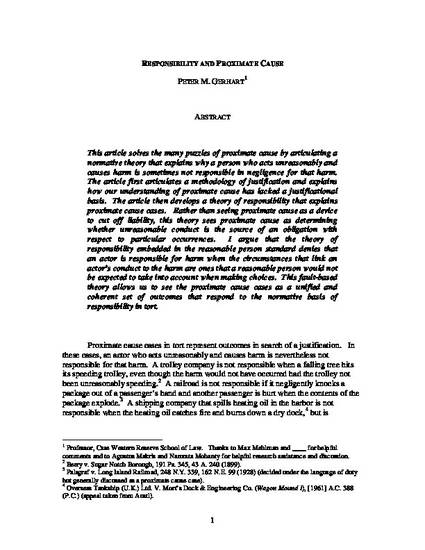 Unpublished Paper
Responsibility and Proximate Cause
ExpressO (2008)
Abstract
This article solves the many puzzles of proximate cause by articulating a normative theory that explains why a person who acts unreasonably and causes harm is sometimes not responsible in negligence for that harm. The article first articulates a methodology of justification and explains how our understanding of proximate cause has lacked a justificational basis. The article then develops a theory of responsibility that explains proximate cause cases. Rather than seeing proximate cause as a device to cut off liability, this theory sees proximate cause as determining whether unreasonable conduct is the source of an obligation with respect to particular occurrences. I argue that the theory of responsibility embedded in the reasonable person standard denies that an actor is responsible for harm when the circumstances that link an actor's conduct to the harm are ones that a reasonable person would not be expected to take into account when making choices. This fault-based theory allows us to see the proximate cause cases as a unified and coherent set of outcomes that respond to the normative basis of responsibility in tort.
Keywords
obligations,
proximate cause,
breach,
responsibility
Publication Date
February 1, 2008
Citation Information
Peter M. Gerhart. "Responsibility and Proximate Cause"
ExpressO
(2008)
Available at: http://works.bepress.com/peter_gerhart/4/