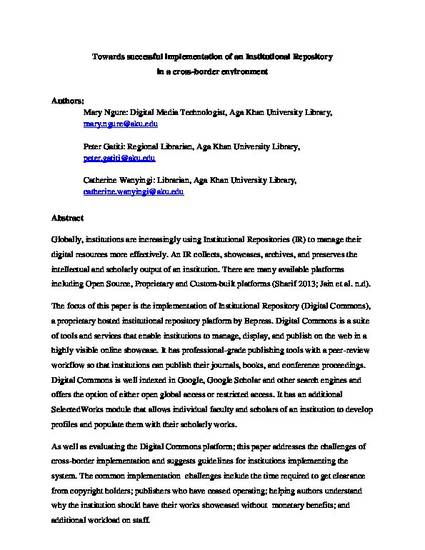 Article
Towards successful implementation of an Institutional Repository in a cross-border environment
Kenya Library Association
Publication Date
11-1-2014
Document Type
Conference Paper
Abstract
Globally, institutions are increasingly using Institutional Repositories (IR) to manage their digital resources more effectively. An IR collects, showcases, archives, and preserves the intellectual and scholarly output of an institution. There are many available platforms including Open Source, Proprietary and Custom-built platforms (Sharif 2013; Jain et al. n.d). The focus of this paper is the implementation of Institutional Repository (Digital Commons), a proprietary hosted institutional repository platform by Bepress. Digital Commons is a suite of tools and services that enable institutions to manage, display, and publish on the web in a highly visible online showcase. It has professional-grade publishing tools with a peer-review workflow so that institutions can publish their journals, books, and conference proceedings. Digital Commons is well indexed in Google, Google Scholar and other search engines and offers the option of either open global access or restricted access. It has an additional SelectedWorks module that allows individual faculty and scholars of an institution to develop profiles and populate them with their scholarly works. As well as evaluating the Digital Commons platform; this paper addresses the challenges of cross-border implementation and suggests guidelines for institutions implementing the system. The common implementation challenges include the time required to get clearance from copyright holders; publishers who have ceased operating; helping authors understand why the institution should have their works showcased without monetary benefits; and additional workload on staff.
Citation Information
Mary Ngure, Peter Gatiti and Catherine Wanyingi. "Towards successful implementation of an Institutional Repository in a cross-border environment"
Kenya Library Association
(2014)
Available at: http://works.bepress.com/peter_gatiti/6/